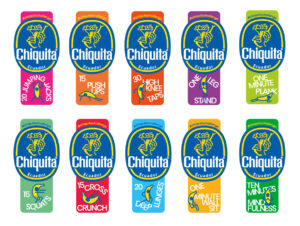 A common sight at the end of 5K and other distance races is a table with boxes of bananas. A great source of carbohydrates as well as the electrolyte potassium, they help boost endurance and movement of fluids and other nutrients across cells, making them ideal for running and other events demanding stamina.
The biggest name in bananas is probably Chiquita, which has launched a month-long fitness program through July, during which consumers can collect a series of 10 fitness stickers, each signifying another modest fitness goal achieved. This isn't exactly the P90X workout; the orange sticker, for example, is unlocked at 15 push ups, and one of the off-green at 15 squats. Highly achievable goals that at least get people thinking of moving and exercising.
"At Chiquita, we wanted to launch a new sticker series that would remind our fans that fitness can be fun and easy with the right tools in hand," said Jamie Postell, Director of Sales North America for Chiquita in a statement. "We're proud to deliver a superfruit packed with vitamins and nutrients that can help our fans achieve their fitness goals in a fun and engaging way."
As with most challenges these days, there is an online component, with the banana giant encouraging participants to undertake the effort along with others, with the hashtag #ChiquitaChallenge, hoping to make it more "appealing" to the younger set.
Cover Photo By Pfc Nicole Rogge