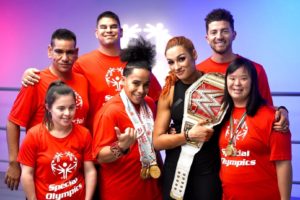 Recognizing the need for continued fitness as we remain in our homes, Special Olympics has developed a new video series dubbed "School of Strength" in conjunction with WWE designed specifically for Special Olympics athletes.
The fitness campaign features four workout videos with varying levels of difficulty in flexibility, strength, balance and endurance exercises encouraging athletes to commit to a lifetime of fitness habits.
"The goal is for everyone, no matter your fitness level, to benefit from these videos," said WWE Superstar Becky Lynch, put forth as the face of the campaign. "It's important to me to join this campaign and support those who are breaking barriers for inclusion."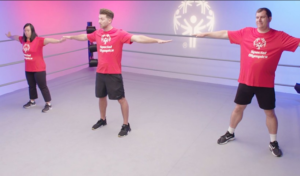 Lynch and six Special Olympics athletes are featured in the videos as the wresting standout trains them in a series of exercises at various fitness levels. The videos are accompanied by downloadable interactive toolkits for coaches and caregivers that feature recipes, a fitness tracker, games and health tips.
"Fitness plays a vital role in both physical and mental health as well as sports performance. Our athletes are fierce competitors who should have the same opportunities as everyone else to be active, workout, and eat healthy. We are changing the face of inclusive health by giving our athletes opportunities to enhance their fitness even while we are all physically distanced from each other," said Dr. Alicia Bazzano, Chief Health Officer, Special Olympics. "People with intellectual disability die on average 16 years earlier than those without intellectual disability due to preventable causes. We know that becoming and staying fit can reduce those gaps. The School of Strength campaign is a fantastic asset that encourages our athletes to not only stretch their fitness goals, but stay committed to their health journeys during these tough times."