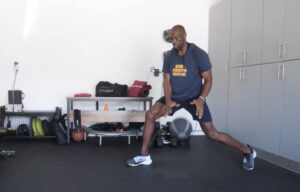 Pro Football Hall of Famer Terrell Owens, three-time LPGA champion Austin Ernst and former NFL standout lineman Bart Scott are among the current and former star athletes involved in gym access and training app FlexIt's new invitation only platform for top clientele. Known as FlexItPro, the system provides users access to premium trainers it says are normally exclusive to celebrities, pro athletes and other A-list individuals.
In addition to the star power of Owens, Ernst and Scott utilizing the program, FlexItPRO's boasts a strong inaugural class of trainers, as selected by elite curators like FlexIt's Head of Training Innovation Ebenezer Samuel. They include:
Samuel, CSCS: Head of Training Innovation at FlexIt, Samuel has worked with Antonio Brown and other NFL athletes, and he's starred in workout videos, including New Rules of Muscle. He's a leading voice in the fitness and wellness space who has spoken before the National Strength and Conditioning Association and appeared on numerous podcasts.
Jay Cardiello, CSCS: Men's Health Editor for Verywell.com, Wellness Contributor on the Martha Stewart Radio Show, Shape's #1 Motivator in Health and Wellness. Cardiello has worked with celebrities such as Jennifer Lopez, Sofia Vergara, 50 Cent, Rami Malek, Kevin Love, Timothy Chalamet, and several professional sports teams.
Johanna Sapakie: Trainer and choreographer to the stars, who has worked with Jennifer Lopez, Madonna, and Miley Cyrus. Sapakie has been involved with projects such as Cirque Du Soleil, Super Bowl LIV Halftime Show, and Hustlers (2019).
Pete Geracimo: Former triathlete with over thirty years experience working with the best in the fitness industry. Geracimo has trained a number of high-profile clients including Adele, Kim Cattrall, and members of the British Royal Family.
Matt Powell, CSCS, RD – US Special Operations head performance coach, international strongman, and registered dietitian with almost two decades of strength coach experience. Powell has worked with the NFL's Cleveland Browns, Chicago Bears, as well as three Division 1 Universities. Matt also worked as country music superstar Sam Hunt's personal trainer on tour.
Joining Owens, Ernst and Scott as notable pro athletes who have benefited from the program are Jennifer Cohen, host of the Habits and Hustle podcast and influencer Tina Craig. Milwaukee Bucks center Brook Lopez and UFC fighter Chris Weidman are among those seen in FlexIt gear.
"It's great for any and everybody, especially people that have busy schedules like myself," Terrell Owens says of the new premium offering. "When I'm in the gym, I go hard. I try to make the most out of my workouts. With Virtual Personal Training you can get that same outcome, that same level of success, in half the time."
FlexIt CEO and Founder Austin Cohen says, "FlexItPRO™ represents the best that the fitness and health world has to offer. By working with professional athletes and high-performance trainers whose passion for fitness rivals our own, FlexIt crafted the best training solution, approved by fitness leaders, from fitness leaders. We're proud to offer the attention and experience typically only available to celebrities and athletes, to everyone, Wherever, Whenever™."
"FlexIt is at the forefront of fitness innovation, and I am very excited to be offering my skills and experience to our users," says Ebenezer Samuel, "A big benefit of FlexItPRO™ for me as a trainer is that I get to meet and work with people I wouldn't otherwise get the opportunity to train."
Justin Turetsky, Chief Operating Officer and Founding Member of FlexIt notes, "Trainers can bring star-quality attention through live 1-on-1 sessions offered on a platform built for the delivery of personal training. At FlexIt, we are serious about training and continuing to find ways to innovate and elevate our unique experience and offering."
FlexIt's premier Virtual Personal Training platform was designed specifically for exercise, with proprietary features that ensure clients are getting the most out of their sessions. These include timers, specialized camera views, music integration, health and wellness tracking, and form correction features, which allow trainers to project drawings and video demonstrations on screen to adjust technique in real-time.
FlexIt is currently available for download in the App Store and Google Play.