Nancy Clark's Banana Bread – Our All Time Favorite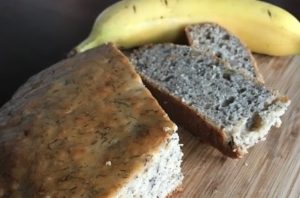 Whether you are rowing in the Head of the Charles or running a marathon, this banana bread is a yummy, healthy sports food that will fuel you for a high energy effort. Add peanut butter and you'll have a delicious sandwich that'll keep you energized for a long time.
The key to success is using well-ripened bananas that are covered with brown speckles. By popular demand, I've included this recipe in all 6 editions of my Sports Nutrition Guidebook. Once you make it, you'll understand why it's a family favorite.
3 large well-ripened bananas
1 egg
2 tablespoons oil, preferably canola
1/3 cup (80 ml) milk
1/3 to 1/2 cup (65 to 100 g) sugar
1 teaspoon salt
1 teaspoon baking soda
1/2 teaspoon baking powder
1 1/2 cups (210 g) flour, preferably half whole wheat and half white
Optional: 1/2 cup chopped nuts
Preheat the oven to 350 °F (180 °C).
Mash bananas with a fork.
Add egg, oil, milk, sugar, and salt. Beat well.
In a small bowl, blend the baking soda, baking powder, flour (and nuts), then gently stir it into the banana mixture. Stir for 20 seconds or until moistened.
Pour into a 4 x 8-inch (10 x 20 cm) loaf pan that has been lightly oiled or lined with waxed or parchment paper.
Bake for 45 minutes or until a toothpick inserted near the middle comes out clean. Let cool for 5 minutes before removing from pan.
Enjoy for breakfast (with some poached eggs), lunch (with nut butter), snack (with some tea), or during exercise as easy to digest fuel while biking, hiking, and adventuring outdoors.
Yield: 12 slices
Nutrition information: 1,600 total calories; 135 calories per slice
24 g carbohydrate; 3 g protein; 3 g fat
Source: This is one of many yummy, healthy sports foods in my best selling Nancy Clark's Sports Nutrition Guidebook (new 6th edition, 2019).