James M. Paci, M.D.
Stony Brook Orthopaedic Associates, Stony Brook University Physicians, Stony Brook, NY
Assistant Professor, Department of Orthopaedic Surgery, Division of Sports Medicine
Dr. James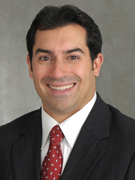 M. Paci joined Stony Brook Orthopaedic Associates in 2010 and is an Assistant Professor with the Department of Orthopaedics within the Stony Brook University School of Medicine. He is a board-certified orthopaedic surgeon specializing in the care of athletes and disorders of the shoulder, elbow and knee. Dr. Paci is a team orthopaedic physician for Stony Brook University, Suffolk County Community College, Dowling College, and an orthopaedic consultant for many high schools on Long Island.
Dr. Paci completed an orthopaedic sports medicine fellowship at the American Sports Medicine Institute (ASMI) in Birmingham, Alabama, under the direction of Dr. James Andrews, where he received the 2009-2010 award for excellence in clinical research. In Birmingham, Dr. Paci was the team physician for Huntingdon College and Bessemer Academy, and assisted with the care of athletes from the University of Alabama, Auburn University, the Washington Redskins football team, and the Montgomery Biscuits (AA) and Birmingham Barons (AA) baseball teams. Dr. Paci received his undergraduate degree from Yale University and was a member of the varsity football team. He continued his education at the Chicago Medical School where he received his medical degree. He then went on to complete his orthopaedic surgery residency at SUNY Upstate Medical University in Syracuse, New York, where he was Chief Resident from 2008-2009. While in Syracuse, Dr. Paci assisted in the care of the Syracuse Crunch ice hockey team (AHL), the Syracuse Chiefs baseball team (AAA), the SUNY Cortland University athletic program and the Onondaga Community College athletic program.
Dr. Paci has presented research and lectured at numerous national orthopaedic and sports medicine conferences. He has also authored research and book chapters in topics related to orthopaedics and sports medicine. In addition to his clinical and team coverage responsibilities, Dr. Paci currently performs clinical and biomechanical research at the Stony Brook University School of Medicine.
Education
8/2009-7/2010
The American Sports Medicine Institute, Birmingham, AL
Sports Medicine Fellow under the guidance of James R. Andrews, MD and his partners
7/2009
ABOS Part I 2009 Examination, Syracuse, NY
7/2005-6/2009
State University of New York Upstate Medical University, Syracuse, NY
Resident in Orthopedic Surgery
Chief Resident in Orthopedic Surgery, July 2008-June 2009
7/2004-6/2005
State University of New York Upstate Medical University, Syracuse, NY
Intern in General Surgery
9/2000-6/2004
The Chicago Medical School, Rosalind Franklin University of Medicine and Science, North Chicago, IL
Doctor of Medicine, June 2004
1999-2000
State University of New York at Stony Brook, Stony Brook, NY
Graduate coursework in the biological sciences
1995-1999
Yale University, New Haven, CT
BS Biology, May 1999
Athletic Team Coverage
Fall 2013-Present: Dowling College, Varsity Athletics, Team Physician
Fall 2011-Present: Suffolk County Community College, Varsity Athletics, Team Physician
Spring 2011-Winter 2012: Long Island Lizards Lacrosse, MLL, Team Physician
Winter 2010-Present: SUNY Stony Brook University Ice Hockey, Team Orthopaedic Surgeon
Summer 2010-Present: Stony Brook University, Varsity Football (Big South Champions 2010, 2011, 2012 NCAA FCS Playoffs 2011, 2012) and Athletics, Team Physician
Spring–Summer 2010: Montgomery Biscuits Baseball, AA Affiliate for the Washington Nationals
Summer 2009–Summer 2010: Birmingham Barons Baseball, AA Affiliate for the Chicago White Sox
Spring 2010: Spring Training Physical Examinations: The Tampa Bay Rays, Major League Baseball
Fall 2009: Washington Redskins Football, National Football League
Fall 2009-2010: University of Alabama Varsity Football, SEC and National Champions 2009/2010
Fall 2009-2010: Auburn University Varsity Football, Outback Bowl Champions
Fall 2009-2010: Huntingdon College Varsity Football and Athletics
Fall 2009-2010: Bessemer Academy Varsity Football (2009 ASIA State Finalists) and Athletics
Spring 2009: Syracuse Chiefs Baseball, AAA Affiliate for the Washington Nationals
Spring 2009: Onondaga Community College Men's Lacrosse, NJCAA National Champions 2009
Winter 2009:Syracuse University Men's Ice Hockey
Fall 2006–Winter 2009: Syracuse Crunch Hockey, AHL Affiliate for the Columbus Blue Jackets
Fall 2007: Cortland University Varsity Football and Varsity Athletic Clinic
Fall 2005: Syracuse University Football, NCAA, Big East Conference
Fall 2004: Liverpool High School Football