Nancy Clark, RD, CSSD
Nancy is an internationally known sports nutritionist and best-selling author trusted by many top athletes.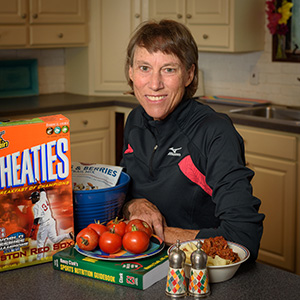 Technically speaking, Nancy is a registered dietitian (RD) and board certified specialist in sports dietetics (CSSD). Practically speaking, she is a food coach and nutrition educator. She offers one-on-one personalized sports nutrition counseling to casual exercisers and competitive athletes at her private practice in the Boston-area (Newton) as well as online in her virtual office. She teaches her clients how to have more energy, lose undesired body fat, enjoy a winning sports diet—and feel confident about their food choices.
Nancy's best selling Nancy Clark's Sports Nutrition Guidebook has sold over 750,000 copies. It is now available in it's 6th edition (2020). Her food guides for new runners, marathoners, soccer players and bicyclists, are handy resources. They include tips on daily eating and how to effectively lose weight.
Nancy also has created sports nutrition handouts and PowerPoint presentations that are available for purchase by nutrition educators and professionals throughout the country.
Some of the more renowned clients that have relied on Nancy's expertise in diet for sports conditioning to gain a competitive edge have included members of: Boston Celtics, Boston College, and many collegiate, elite and Olympic athletes from a variety of sports. She has been Team Nutritionist for the Boston Red Sox baseball team. Her online workshops with teams and clubs have gotten rave reviews. As coach Tommy Owens said, "I can't begin to tell how perfect your Zoom sports nutrition presentation was for our training group. In my 29 years with Team in Training, I have never seen such an attentive group. It was fantastic to see their interest and involvement. "
Visit www.NancyClarkRD.com for info.