Bryson P. Lesniak, MD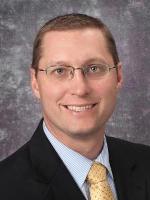 Carnegie Mellon Athletics
Skibo Gymnasium
Tech and Frew Streets
Pittsburgh, PA 15213
Appointments: (412) 268-8551
Bryson P. Lesniak, MD joined the Carnegie Mellon University sports performance team as a team physician in 2014. Dr. Bryson P. Lesniak is an Associate Clinical Professor of Orthopaedic Surgery in the Division of Sports Medicine.  Dr. Lesniak earned his medical degree at the University of Cincinnati, College of Medicine in 2003 and completed an orthopedic surgery residency at the University of Michigan Health System in Ann Arbor, MI. He then obtained fellowship training in sports medicine in the Department of Orthopaedic Surgery at the University of Pittsburgh Medical Center.
Upon completion of post-graduate training in 2009, Dr. Lesniak was appointed Assistant Professor in the Department of Orthopedics at the University of Miami, Miller School of Medicine. While at the University of Miami, he was also the Fellowship Director of the Sports Medicine program. Dr. Lesniak is board-certified by the American Board of Orthopaedic Surgeons with a subspecialty certification in Sports Medicine.
Dr. Lesniak has received several sports medicine awards for his clinical research, including The O'Donoghue Sports Medicine Injury Award in 2010.  He is a member of the American Academy of Orthopaedic Surgery, American Orthopaedic Society of Sports Medicine, Arthroscopy Association of North America, Major League Baseball Physicians Association, and the International Cartilage Repair Society. Dr. Lesniak served on numerous committees while at the University of Miami, Miller School of Medicine and was also active in the community.  He was a team physician for the University of Miami athletics as well as the Miami Marlins Baseball Franchise and several South Florida high schools.
Dr. Lesniak is a native of Pittsburgh and attended Schenley High School prior to pursuing his undergraduate studies Pennsylvania State University.
Dr. Lesniak's primary office is at the UPMC Sports Medicine Center, South Side, and he also sees patients at UPMC South Hills.  His clinical emphasis is in Sports Medicine with special emphasis on articular cartilage and articular cartilage injury; anterior cruciate ligament (ACL) injury; knee kinematics; injuries in professional and college athletes; applications of stem cells in sports medicine; rotator cuff injury and treatment; and shoulder instability and treatment.