Asheesh Bedi, M.D.
Domino's Farms MedSport Ann Arbor, MI 48106
Appointments: 877-877-9333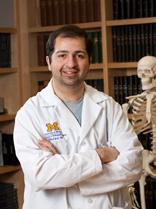 Dr. Asheesh Bedi is the Harold and Helen W. Gehring Early Career Professor of Orthopaedic Surgery and an Assistant Professor of Sports Medicine and Shoulder Surgery at the University of Michigan and MedSport Program. He is also an Adjunct Assistant Professor at the Hospital for Special Surgery/Weill Cornell Medical College He is a team physician for the University of Michigan and Eastern Michigan University and a consultant for the NFL and NHL Players Association, and specializes in both arthroscopic and open surgery for athletic injuries of the shoulder, elbow, hip, and knee.
Dr. Bedi completed his undergraduate training at Northwestern University where he graduated Summa Cum Laude. He graduated from the University of Michigan Medical School with AOA recognition, and remained in Ann Arbor to pursue residency training in Orthopaedic Surgery at the University of Michigan.
After completing his training, Dr. Bedi completed a two-year fellowship in sports medicine and shoulder surgery at the Hospital for Special Surgery and Weill Cornell Medical College in New York. He has also pursued additional dedicated training with Dr. Bryan Kelly in arthroscopic hip surgery for young athletes. While in New York, he was an assistant team physician for the New Jersey Nets professional basketball and New York Mets professional baseball organizations with Dr. Riley Williams, Struan Coleman, and David Altchek. He was also an orthopaedic consultant for the U.S. Open Tennis Tournament in 2007 and 2008 with Dr. David Dines and an assistant team physician for Iona College Athletic Programs.
Dr. Bedi has also been recognized with the Leonard Marmor Outstanding Orthopaedic Resident Award, and the Hospital for Special Surgery Philip D. Wilson Award for Excellence in both 2008 and 2009 for his efforts in orthopaedic research and tendon-bone healing studies with Dr. Scott Rodeo. He is the winner of the 2010 Neer Award of the American Shoulder and Elbow Surgeons (ASES) and a recipient of the 2010 Cabaud Award from the American Orthopaedic Society for Sports Medicine (AOSSM). He has authored over one hundred articles, chapters, and peer-reviewed publications on shoulder, elbow, knee, and hip injuries in athletes.
Appointments
Harold and Helen W. Gehring Early Career Professor of Orthopaedic Surgery
Areas of Interest
Orthopaedic Surgery
Clinical Interests
Rotator Cuff Tears, Shoulder Instability, ACL Injury, Ligament and Cartilage Injuries of the Knee, Elbow Injuries in Athletes, Shoulder Arthritis, Hip Injuries, Hip labral tears, Hip impingement, Femoroacetabular Impingement
Research
Hip Impingement, ACL Injuries, Rotator Cuff Tears, Shoulder Instability, Meniscal Injuries, Tendon-to-Bone Healing
Published Articles via PubMed