by Matt Forsman a.k.a Marathon Matt, SportMe Run Trainer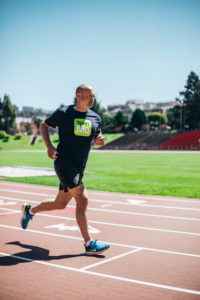 Usually "I'm going to sleep now" actually means "I'm going to lie in bed and scroll through my Instagram for an hour." For me, this usually entails stalking some of my favorite fitness inspirations, many of which not only give me the motivation to get up in the morning and actually go to the gym, but also inspire me to convert to healthier long-term lifestyle.
I've compiled a list of "Insta-Famous" fitness sensation accounts that are designed for and target the success of "real" women. These trainers are honest and up-front about their own personal fitness journeys and the fact that they weren't naturally born as perfectly shaped human beings. In fact, many of these women share their own personal struggles with weight, exercise and diet, detailing their ultimate lifestyle transformations as a way to connect to their followers. This tactic has been quite successful in amassing large followings; many of these fitness accounts have actually built their own online communities, full of motivated individuals who label themselves and connect through social media with special hashtags such as "#Kayla's Army" or "#fbggirls." The sense of positivity and motivation that these fitness idols exude, and the resulting communities that are created through these good vibes, make it no surprise that these women have garnered such strong and loyal followings despite humble social media beginnings.
So, without further ado, here is my list of the top ten fitness trainers on Instagram with the best, and most effective, workout and nutrition guides for real women like us!
1.    Kayla Itsines (@kayla_itsines)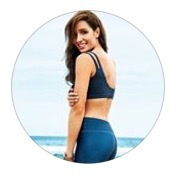 Kayla Itsines is 4 million followers strong, and in my opinion, is the 'Godfather' of personal trainers on Instagram. She has built a fitness empire, and quite literally an army ("#Kayla's Army") from scratch. She started out posting "before and after" pictures of her personal clients, and quickly garnered attention due to the dramatic results. Fast forward several years and she now has her own Fitness app, "Sweat with Kayla," as well as several popular twelve-week "Bikini Body" workout and health guides, including recipes and nutritional advice. Kayla even hosts meet-ups around the world, in which girls attend her Boot Camps just get their butt kicked by Kayla in person!
2.    Sophie Gray (@wayofgray)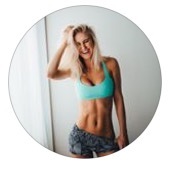 Sophie Gray, a holisitic nutritionist and personal trainer, is the owner of the popular Instagram account @wayofgray. She also has her own workout and nutritional guides that actually include videos of her coaching the user through the entire workout (great for those who need someone to constantly push them harder). She emphasizes the adaptability of the workouts for all levels and the need for equipment as optional. Sophie also notes that her guides contain the exact same workouts that she does herself to stay fit, and once you see her body…you'll want to try them out for yourself!
3.    @BaseBodyBabes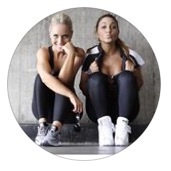 With over half a million followers on Instagram, the Base Body Babes, a pair of Australian personal trainer sisters, have exploded onto the Instagram fitness scene. The girls' account emphasizes health, fitness education and inspiration, hosting a collection of perfectly curated images of their amazing bodies, workout outfits (yes, please) and aesthetically pleasing motivational snaps. The babes have their own workout and nutritional guides (of course) that can be purchased through a link in their Instagram bio, as well as own their own gym (now that's badass)!
4.    Tone It Up (@toneitup)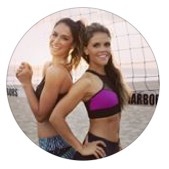 Founders Karina and Katrina (@karenakatrina) have over half a million followers as part of their #TIUteam. Their Instagram account provides glimpses into the fit lives of this vivacious twosome, who not only had their own TV show on the Bravo Network, but also have fitness, nutrition and lifestyle plans and guides for their motivated followers! They are currently running an "8 Week Fitness Challenge" with exclusive workouts, an eight-week meal plan, as well as tips and inspiration. And let's be honest here…the transformations they post of their clients (and of themselves!) are enough to inspire any couch potato to at least try out their FREE starter pack!
5. Anna Victoria (@annavictoria)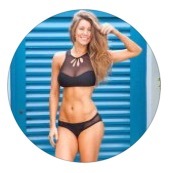 Anna Victoria is the creator of The Fit Body Guides, which includes a 12 Week Meal Plan (with a vegan/vegetarian meal option) and 12 Week Training Guide. Her Instagram boasts impressive transformations by her #fbggirl community using her guides, obligatory pre-workout mirror shots, and videos of her completing different exercises from her workouts. Like many successful fitness trainers on Instagram, she emphasizes the "strong, not skinny" approach, encouraging women to take on her guides as a means to grow stronger both physically and mentally, not just to lose weight for the sake of becoming "skinny." Victoria's journey from "skinny-fat" to strong and fit is relatable and inspiring, and posting her own transformation picture back when she first started her Instagram account in 2012 was actually the spark that started her rise to insta-fitness-fame.
And the rest:
6.    Amanda Bisk (@amandabisk)
7.    Massy Arias (@massy.arias)
8.    Emily Skye (@emilyskyefit)
9.    Lyzabeth Lopez (@lyzabethlopez)
10.    Faya (@fitnessontoast)
Cover Image: Kayla Itsines