One of the most accomplished high jumpers in U.S. history, Amy Acuff represented the country in five Summer Olympics between 1996 and 2012. The Corpus Christi, Texas, native was also the six-time U.S. Outdoor champion and five-time indoor winner, along with winning a combined five NCAA titles at UCLA, into whose Athletics Hall of Fame she was enshrined in 2007.
Acuff earned acclaim as a model as well, gracing the pages of Rolling Stone, Sports Illustrated, Maxim and many other magazines. But she has set the bar even higher, so to speak, in her post-jumping career, founding WinningEdgeApps.com, and launching MADE Athlete, an app that that utilizes AI/Edge Technology from Austin's Clearblade to help coaches and trainers track athlete data and use analytics to do everything from optimize workouts to predict/help injury and more.
Utilized by Olympic and NCAA performers as well as youth athletes, MADE Athlete is billed as helping athletes by "capitalizing on strengths and identifying and addressing weak links."
Acuff, who now resides in Austin with her husband and two children, took a few minutes with SportsMD.com to discuss the app and how her success in track led to her new career.
SportsMD: Which aspects of your career in track & field and your education inspired you to found WinningEdgeApps and to create MADE Athlete?
Amy Acuff: Towards the end of my career in track and field, I realized that I had missed a huge opportunity in not documenting my training. It would have been really helpful to benchmark myself against previous seasons, but also younger athletes were always eager to understand what the minimum competencies are to reach a certain level. This desire to help athletes reach their potential spurred me to create MADE Athlete, a digital training platform.
SMD: What sets MADE Athlete apart from other data tracking apps?
AA: I think this category of data tracking is in its infancy, but what is paramount is that the data that we collect must have as much context as possible and not be collected in a fragmented way without the ability to have a holistic view of the athlete.
SMD: How did you choose Clearblade as a platform for MADE Athlete?
AA: Choosing Clearblade was an easy decision, as ClearBlade was a pioneer in providing a tool that developers can use to create a complete solution using the most modern technology without the overhead expense of a large team. They had everything that I needed and were so accessible.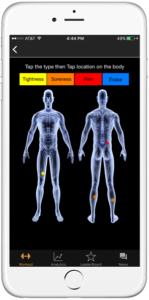 SMD: We heard you wrote your own code? How difficult was this?
AA: I was interested in iOS development from the beginning when the first iPhone was released. Apple has made things a lot easier over time. Clearblade was amazing at making a database and platform integration completely attainable with just a little javascript knowledge on my part.
SMD: What difference do you think having a tool like this would have made in your high jumping?
AA: I think that the availability of instant video feedback was the first revolution, but the data that we can gather will tell us a story that will drive human potential to yet another level.
SMD: What is the audience for MADE Athlete? Is it geared more to the professional athlete or can it work for the average person looking to improve his/her fitness? How might each group use it differently?
AA: I would say MADE Athlete is geared towards sports performance, so anyone that tries to make every effort count in pursuit of elevating their performance.
SMD: How much do you think your success in high jump and outside of track & field (modeling, business world) has affected the popularity of the discipline and the sport in the U.S.?
AA: The beauty of track and field is that it is a perpetual fountain of brilliant talent that emerges for the enjoyment of those who love sport. I feel lucky that my career in high jumping lasted so long.