Major League Soccer is now in full bloom and a Women's World Cup is on the horizon. However the place where soccer keeps growing even faster in North America is at the youth level. As millions of kids as young as three take to the pitch, what are the risks and rewards? We asked one of the best in youth soccer for some answers.
Dean Simpson has been coaching for over 18 years and has been with Super Soccer Stars, the largest grassroots soccer program in the country,  since 2006. As the Chief Programs Officer, he oversees all of Super Soccer Stars' programming nationwide and in the UK, including coaching staff, curriculum, and content.  Born in London, he moved to Wales at the age of 4 where he grew up and played soccer at various levels. He tried his hand—and feet—at playing at the top level, having trials and stints at Cardiff City 1994-1996, Bristol City 1996 and in Australia in 1998.
After his time at the professional level, Dean decided to pursue his love of the game in a different capacity, and went on to finish a degree in Sports Management and Biomechanics at the University of Wales, Institute Cardiff. What followed next was a coaching career that started in California and continued back in the UK with Chelsea FC and Cardiff City's youth levels.  Dean then moved back to the United States, this time to the East Coast where he continues to build his trade and his reputation in coaching and education.  He is dedicated to his teams' professional development and provides in-house coach certifications for his staff, as an NSCAA associate regional staff member. Dean holds both the UEFA "A" and the NSCAA Premier coaching licenses and was, at the time, one of the youngest coaches to receive his UEFA "A" license at age 26. 
Lets see what Dean had to say…
SportsMD: What's the optimal age for young people to start playing some form of competitive soccer?
Dean Simpson: Soccer is the gateway sport. It requires limited equipment for a child to play and have fun. All you need is a ball. Therefore, children should play in a non-competitive development environment at an early age for them to develop social, basic technical, and gross motor skills. For competitive play or should I say more structured play, age 8 is most suitable.  Children at this age begin to understand what being apart of a team means and recognizes the concepts of winning and losing and the impact that it has. This is also the age where players have developed the proper skills to showcase them on the field in a competitive environment.
SMD: What are the biggest issues with injury and youth soccer?
DS: The most prevalent issues with injury in youth soccer is around concussions.  With a child's brain not becoming fully developed until later in life, concussions in soccer can have a serious and lasting effect on their cognitive development.  Providing coach education around the safe practice of heading a soccer ball is crucially important, and thankfully, action has been taken to allow coaches, parents, and players more aware of this. U.S. Soccer Federation has recently issued guidelines either banning or limiting players heading the ball depending on their age. Children 10 years or under can no longer head the ball in practice or games while players aged 11 will only be allowed to do it during practice, not in games.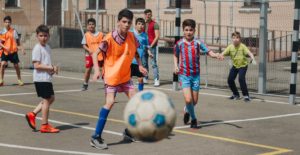 SMD: Before a coach or parent lets their child take the field, what are the three or four things that should always be in a warmup?
DS: Players should participate in both static and dynamic stretching and activity.  This gives the body a chance to loosen up while moving and stretching while standing.  Additionally, coaches should allow for players to perform natural movements to mimic gameplay.  Small sided possession-based passing games help players to maximize touches on the ball while also helping players to use in-game strategy in a constructive environment.  Also, coaches should encourage players to explore and try something new in a safe way. A new move, using their less dominant foot or leg or even practicing defensive conceptions.  All are translatable to a match and can be practiced in a safe way with limited pressure.
SMD: What is the biggest misconception parents have when putting their child into youth soccer?
DS: The biggest misconception parents have about putting their child into youth soccer is that it is always about winning.  Players develop at a different pace than their peers. Parents and coaches shouldn't discourage their child to stop playing a sport because they aren't good at it.  As a coach, we look to identify players by skill ability and track over the course of a season looking for improvement. Even if it is a small improvement, we have done our job.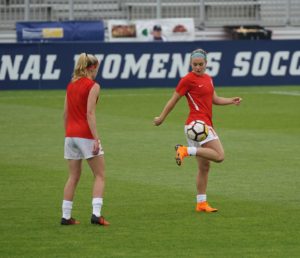 SMD: When people say 'why should my child' play soccer vs. some other sport, what are the benefits, even at a young age, you advise them on?
DS: Soccer is a team sport and teaches a variety of themes and concepts that are relevant on and off the field.  Sharing, teamwork, problem-solving, strategy are some examples of how soccer translates off the field and helps the cognitive growth of soccer players.  Additionally, these concepts can translate to other sports as well.
SMD: We are often asked about life sports…does soccer qualify as a game you play for life? if so, how?
DS: Soccer is certainly a life sport!  I've found that people that are passionate about something will do everything that can to give back to a sport they love.  Whether this is coaching soccer, playing in adult leagues or watching the game, soccer is a diehard sport that people all over the world love and appreciate.