Concussion symptom duration in youth athletes has significantly shortened following the revision of concussion guidelines, according to a 2021 review published in the Journal of Osteopathic Medicine.
Highlights
Researchers compared the 2011-2013 data set with the 2016-18 data set. 

Following the revised concussion guidelines, symptom duration shortened from 11 to 5 days in male athletes and 28 to 7 days in female athletes. 

Experts recommend "active rest" instead of "strict rest." Gradual increase in activity under supervision shortens recovery time. 

Identification of pre-existing health problems improves treatment outcomes.

Early counseling and patient education help reduce anxiety and aid recovery.   
A Quick Overview of Concussion and Its Prevalence
Concussions are one of the most frequent diagnoses in youth athletes. Though most concussion effects are temporary, some may have long-term problems. These can include post-concussion syndrome, post-concussion headaches, and second impact syndrome. 
Learn more: What is second impact syndrome?
According to the 2014 YouthStyles survey, 14% of athletes between 12 and 17 years reported a concussion history.11 Among them, 41% said they had more than one concussion during a sports activity. 
Revised Concussion Guidelines Initiated in 2017
In 2016, a team of expert panelists screened 60,000 articles and developed specific clinical questions for the Berlin 2016 meeting. After a year, they published a consensus statement with revised guidelines on sport-related concussions (SRC).22 
The 2017 Concussion in Sport Group (CISG) consensus statement guides healthcare providers on SRC management. Besides, the new guidelines help health professionals make appropriate return-to-play decisions.
Related: Concussion in Sports
The Impact of The Revised Concussion Guidelines on Recovery Time
To understand how these changes affected recovery, American researchers conducted a study that compared the new data (revised concussion guidelines) with data in a previous study (unrevised guidelines).33 
What Did the Researcher Do?
The researchers reviewed the medical records of 182 athletes who had a concussion from 2016 to 2018. They included 110 male and 72 female athletes aged 11 to 18 years with no concussion history.
Then, they compared the data with similar data from a 2017 study that assessed concussions occurring between 2011 and 2013.44 
What Did They Find?
The key findings of the study are as follows:
Both male and female athletes had a shorter recovery time. 

Male athletes had an average symptom duration of

5 days vs. 11 days

in the previous study. 

Female athletes had an average symptom duration of

7 days vs. 28 days

in the previous study. 

Participants with pre-existing conditions had prolonged recovery. Examples included vision problems, migraines, anxiety, and depression. 
What the Revised Guidelines Mean for Youth Athletes
The new guidelines apply only to youth athletes with no prior history of concussions. If you or anyone you love has a recent injury, consider the following. 
Further Reading: What is a Traumatic Brain Injury (TBI)?
Leverage the benefits of active rest for a faster recovery
Recovery occurs when an affected individual is able to return to day-to-day activities, including school, work, and sport, after a concussion. It means the individual has no post-concussion symptoms and a clinically acceptable balance and cognitive functioning.
The recommendation for switching to "active rest" from "complete rest" is the most significant change in the new guidelines. 
Active rest – including light movement – drastically improves concussion symptoms, says the study's lead researcher, John Neidecker. So, he recommends that youth athletes engage in light physical and mental activity 24 to 48 hours after injury. But the level of activity should not cause or worsen the symptoms, warn the researchers. 
Once comfortable with an activity, you may gradually increase the activity levels. But you avoid exertion. Researchers are yet to establish the exact duration of rest, which typically depends on individual cases. 
Pre-existing conditions and recovery 
Participants in the 2016-18 data set had a short recovery time but a higher incidence of pre-existing conditions. 
What does it suggest? 
It indicates better identification of such conditions can improve treatment outcomes.
If a doctor knows about your pre-existing issues, such as migraines or anxiety, they can customize treatment to address your unique individual needs. 
For example, if you had a vision problem before the injury, telling your doctor about it will help them focus on other post-injury issues.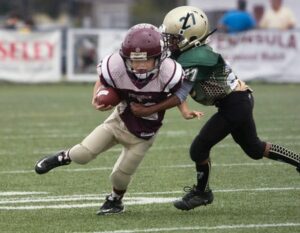 Sadly, adolescents are often unaware of their underlying health conditions. It is when parents and coaches can play a crucial role. Parents should inform the doctor about any pre-injury and post-injury personality or health changes. 
Ask more questions to feel less anxious
Knowledge is your most powerful tool to fight the effects of a concussion.
The study highlights the need for early counseling and patient education to improve recovery. 
Thankfully, patients are now more aware than they used to be a few years ago. Moreover, doctors, following the new guidelines, are better equipped to communicate effectively with their patients. 
Concussion – What To Do For A Young Athlete? 
Most concussion symptoms improve within a few weeks. However, in some cases, they may last for a month or more. If your child's symptoms do not get better or worsen, seek medical care immediately. They may have a condition called post-concussive syndrome (PCS). 
Below are the essential tips to help a young athlete recover faster. 
Tell your loved ones how you are feeling.

Remember that you cannot always be strong. Being weak, regardless of the cause, is not a sign of weakness. Communicating with the people you love will help speed up your recovery. Most notably, if you have any unusual feelings, such as suicidal thoughts, tell your loved ones immediately. 

Seek help

. When you are dealing with a concussion, doing daily activities may feel like an uphill task. You will probably need to muster the courage to get out of your bed. Understand that your brain needs time to heal, and it is when you should seek help. 
Rest

. During the early phase of recovery when the symptoms are more severe, limit physical and mental activities. Doing so will help prevent the symptoms from getting worse. Make sure your child gets enough sleep, takes naps, and does not engage in activities that may increase the risk of a new head injury. 

Light activity

. Once the symptoms start to improve, your child can gradually return to usual non-strenuous activities. Returning to the school may also be considered if your child finds it comfortable. Avoid any activity that makes the condition worse. 

Moderate activity

. When most symptoms have gone, your child can return to usual activities, including returning to school. If symptoms become worse, your child may need breaks. 

Return to regular activity

. Recovery is when your child can do most pre-injury activities without any discomfort.
Make sure your child:
Has a regular follow-up appointment with a doctor or nurse.

Uses only doctor-approved OTC or prescription medications to relieve the symptoms, such as ibuprofen or acetaminophen for headache.

Limits the intake of soft drinks or caffeinated items.
Care from Sports Doctors and Specialists
SportsMD offers Virtual Care and Second Opinion Services.  It allows you to quickly and conveniently speak with a sports doctor or specialist and have an effective alternative to emergency room, urgent care, or waiting for a doctors appointment.  You can get Virtual Care from your home or anywhere via phone or video chat.
References
Donnell, Zoe et al. "Concussion attitudes, behaviors, and education among youth ages 12-17: Results from the 2014 YouthStyles survey." Journal of safety research vol. 64 (2018): 163-169. doi:10.1016/j.jsr.2017.12.001.

McCrory, Paul et al. "Consensus statement on concussion in sport-the 5th international conference on concussion in sport held in Berlin, October 2016." British journal of sports medicine vol. 51,11 (2017): 838-847. doi:10.1136/bjsports-2017-097699.

Neidecker, John M et al. "First-time sports-related concussion recovery revisited: management changes and impact on recovery." Journal of osteopathic medicine vol. 121,1 (2021): 49-56. doi:10.1515/jom-2020-0106.

Neidecker, John M et al. "First-Time Sports-Related Concussion Recovery: The Role of Sex, Age, and Sport." The Journal of the American Osteopathic Association vol. 117,10 (2017): 635-642. doi:10.7556/jaoa.2017.120