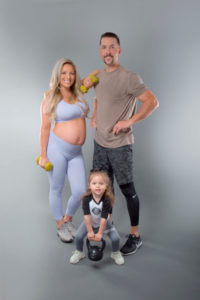 Keeping a balance between their own needs and those of their children is a common issue for mothers. Whether it's while pregnant or after giving birth, women don't have to put health and fitness goals on the shelf while they tend to prenatal and baby care.
Brittany Renz keeps quite a few balls in the air as a wife, mother of one and a half kids (a three-year-old girl and soon-to-be born baby boy), entrepreneur, and personal trainer. Now she's added "author" to that description, with the release of Girl, You Got This!, billed as "a complete guide to setting yourself up for success while transitioning to motherhood.
Renz took some time to discuss with SportsMD in a wide-ranging, informative interview how she's able to maintain her high fitness levels, juggling motherhood and a career, and how other women can do the same.
SportsMD.com: What are some of the misconceptions mothers-to-be have about fitness?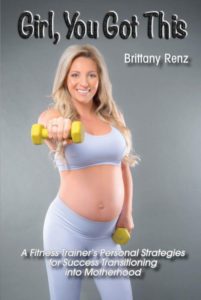 Brittany Renz: This relates to my quote In the book 'women get pregnant and think pickles and ice cream are a must.' Women's perception is so much different now then it was back then. Women feel the need to take longer maternity leave, be lazy, (some are under circumstances, yes by doctors orders, but being active is really the ideal way of having a healthy pregnancy). Fitness isn't about lifting heavy weights always, fitness means staying in tuned with your body and living a healthy life style. Walking 5-15 minutes a day while pregnant is all a part of living a healthy, active life style. People assume, 'I'm pregnant, my back hurts, my feet are swollen.' But truly getting out and walking, stretching, a few squats will help those aches and pains for the most part if you're doing it consistently.
SMD: How concerned should pregnant women be if they are on "bed-rest" and can't exercise? How can they be reassured that they can regain their level of fitness?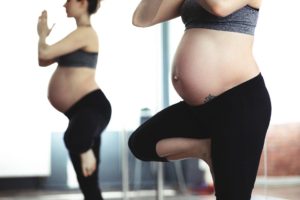 BR: Being on bed rest doesn't always mean you weren't 'healthy' or 'fit' to begin with. But most of the time it is a big part of it unless later on in pregnancy you have some complications. We suggest going into pregnancy that you stay fit and active. If you weren't active before you most likely won't be during pregnancy even though doctors want and encourage that; but don't start something you never did before, as that can trigger bed rest itself. Staying active can help improve so many health issues and help ensure a great pregnancy and easy delivery for most.
If you do become ill or put on bed rest, rest assured it's not going to ruin you. Just still have the will power and choice to make healthy eating decisions. If it's your lower part that's supposed to be on 'rest,' nothing should stop you from laying there doing some 5-pound curls in bed. You just have to make the best out of any situation and once you deliver and let your body heal for the proper time you can jump right back into things if you were active before your body will know just what to do.
SMD: At what stage of pregnancy should active women change their fitness routines, and what are some thing they can do in the last trimester and last month?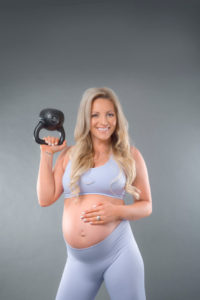 BR: At 10 weeks you will stop doing any abdominal workouts. Going into your last couple weeks you really want to focus on the legs and lower body which will help you strive to succeed in the delivery process. Kegels will be your best friend (exercise). Upper body is wonderful. Gives you strength to hold your baby, and keep you feeling good all the way through. Every pregnant woman goes through the tired phase where working out doesn't even seem like an option, but a simple 10 minute walk can do wonders. Coming to the end, walking, and jogging (if okayed by the doctor) is wonderful, body weight squats, and any 5-10 lb. dumbbell workouts. (lunges, biceps, triceps) leaving out the abdominal and not using any weights heavier than 10 pounds.
SMD: What to do say to women who feel out of shape late term and after the baby arrives?
BR: Well at 30 weeks on, I don't think any woman feels great. We feel swollen, and bloated and for most just ready to get this baby out. Looking at a scale during pregnancy doesn't help, but numbers don't matter unless your doctor is asking you to keep a minimum of weight during pregnancy. Being at a higher weight puts women on a high risk for gestational diabetes.
SMD: What role can partners play in the mother's fitness, both during pregnancy and after giving birth? What should partners avoid doing?
BR: Sometimes they make things difficult; women are very sensitive and very hormonal we can take things the wrong way. Without a doubt that can cause explosion in a relationship. The best thing for a partner to do is just step back and be supportive and know that for the nine months of pregnancy and months after while breastfeeding and trying to get our hormones back on track just be there for support and listen. Don't take things the wrong way and just try and make things a bit easier (cooking, laundry, etc.).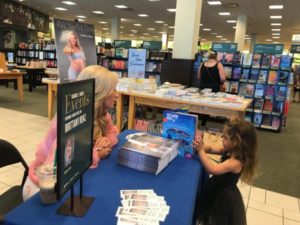 My main thing is support when your partner feels down the in dumps after having a baby and she looks down at her stomach and thinks is this ever going to be normal again? Tell her how beautiful she is, remind her what she just gave birth to but also encourage to go on a walk or maybe to a few exercises together nothing that is 'too much' but little by little make her feel good again. Cook a healthy dinner for her, or together. Never say 'when are you going to workout,' or 'why are you eating that?'
SMR: How can interested fans order the book?
BR: Interested friends can order that book off of Amazon, or Barnes and Noble.