eRace Cancer, a national program educating patients about advances and innovations in treatments, says that cancer survivor Don Wright will compete in track and field at Senior Games in three states this spring, as part of his training for the 2019 National Senior Games in June in Albuquerque, N.M. Don, who has the blood cancer multiple myeloma, has qualified to compete in four events at the National Senior Games: the 200 meter, 400 meter, 800 meter and 1,500 meter races. He plans to run the same races at the Texas Senior Games in San Antonio, Texas on April 7; the Eastern Iowa Senior Challenge in Cedar Rapids, Iowa on April 14; and the Virginia Senior Games in Henrico, Va. on May 18, as he seeks to improve his times.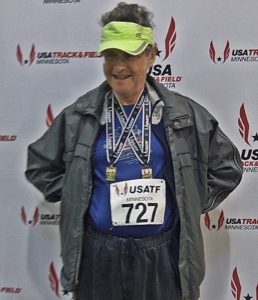 Don has already run a marathon in each of the 50 states, a feat he completed in 2012, as well as 100 marathons, which he completed in 2016, while on active cancer treatment. All of this is made possible, says Don, by the advent of innovative medical therapies that have kept his cancer at bay for 16 years. There is no cure for myeloma, and when Don was diagnosed in 2003 the life-expectancy was 2-5 years. Instead, new treatments came along which have not only kept Don alive, but able to pursue the two loves of his life: running and spending time with his family, who travel with him to races and often compete as well.
"Spring training isn't just for baseball players," said Wright. "I've got to get out there too! I'm having some issues with my left knee, but crucially, my cancer is still under control. Two years ago, after I finished my 100th marathon, I switched from running marathons to shorter distances and managed to qualify for the National Senior Games. Now I have a chance to medal. All made possible by new treatments that weren't even around when I was diagnosed with cancer!"
Read more about Don's story at www.eRacecancer.run and follow him at www.facebook.com/eRaceCancer or @eRaceCancer on Twitter.