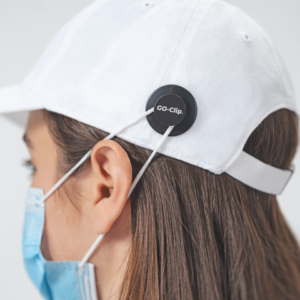 We have all seen the images of the referees, the coaches, even the athletes struggling to keep their masks on, and take them off, during the Pandemic. Now a company created by some sports business executives is looking to tackle that problem not just for those on the field, but for the fields of healthcare workers, food distribution companies, public servants, even fans, literally millions of people who mask wearing might have been a novelty but will be a reality well after The Pandemic ends.
The company is Boston based Osun Labs, and this week they launched the first in a series of products, The GO-Clip with TetherSAFE a functional and custom-branded consumer products that integrate PPE into everyday headwear and apparel.
In short, they are small clips that mount to the side of your hat and keep the mask not just off your ears, but in a position that is comfortable and secure and gives you an easy option when you need to remove it so that it doesn't fall to the ground. Pull it up, it's back on.
"We developed The GO-Clip to help make mask wearing easier, safer, and more comfortable by pulling mask straps away from our ears," said Jeff Eagles, Co-Founder and Chief Product Officer of Osun Labs in a release "The pandemic has forced us to interact in new ways, and people expect safety from the companies, institutions, and brands they rely on daily. The GO-Clips are just the beginning of our work over the past year, and our team is dedicated to continue building additional solutions that help us get back to enjoying our lives responsibly."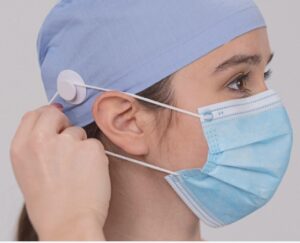 Eagles is joined on the Osun Labs team by executives who have decades of experience working for global consumer brands such as Fanatics, Disney, Mars Inc., Reebok, adidas, MLB, USTA, Visa U.S.A., OYO Sports, Mitchell & Ness and The Topps Company. The team includes: Brian Duffy (Co-founder and Head of Sales and Revenue); Jeff Volk (Co-Founder and Advisor); Joan Buyce (Integrated Marketing); Daryl McKay (Operations); Nik Pai (Finance); Matthew Tomasco (eCommerce & Collectibles); Steve Alvarez (Web and Design); and Dr. Tanvir Choudhri, M.D. (Co-Director, Neurosurgery Spine, Mount Sinai Health System and Advisor).
While the big opportunity is for institutional support…think of the thousands of vendors and food workers who could use these at stadia and arenas across the country as people return to events in the spring and summer…the consumer use, especially for sports like baseball and softball, where caps are worn, is also a big market. The company is in the process of creating ones that are custom branded to support and every team, and is already launching through partnerships with Game Time and Winning Streak Sports, logoed product with the National Hockey League, Major League Baseball, Professional Bull Riders, WWE and others.
Even tennis, and its ballkids and referees are in the mix.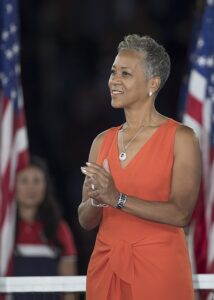 "We're excited to partner with Osun Labs and The GO-Clip," said Katrina Adams, Executive Director of the Harlem Junior Tennis and Education Program and former President of the United States Tennis Association added. "Its innovative look allows us to promote our brand, and it ensures that our students and coaches can perform with ease, knowing that their protective mask has a safe and clean place to rest, while taking a drink in between drills."
There are also other attachments for the non cap wearing public that will be coming as well.
It is the latest example of a safe technology business tied to sport that literally did not exist, or need to exist, less than a year ago, but some smart executives have seen the way, and a way to help those at risk with health and safety for things like the common cold, let alone COVID 19. Hence a sustainable business is in the offing.
GO-Clips are currently available at TheGoClip.com and video demos are available at TheGoClip.com/video. The GO-Clip will also be available in the coming months at national and local retail outlets so be on the lookout. Just in time for the warm of spring, outdoor games, and a return to normalcy.