By Dana Ryan, PhD, MBA, M.A., director, Sports Performance and Education, Herbalife Nutrition, special to SportsMD.com
From quarantining athletes, deferring games, and cancelling entire sports seasons, to the postponement of major international competitions — the ability to compete, the largest driver of motivation for professional athletes worldwide, has been taken away since the onset of social distancing.
During normal times, training would take place at public areas like the gym, the beach and even specialized training facilities like the ones we work with, such as IMPACT Basketball and Proactive Sports Performance. A team of trainers and nutritionists would be ready at a moment's notice to meet with athletes to help them step up their game to be ready for the next match. But with recent health concerns and social distancing guidelines, years of careful preparation and effort have been put on pause, and the concerns for athletic setback is higher than ever.
The LA Galaxy, several triathletes from around the world, and a rugby player from the Philippine are just a few of the athletes I work with as part of my role at Herbalife Nutrition. My job is to help these elite athletes improve their performance through good nutrition and education. Through years of working with these teams and spending time with the athletes, I've found that many are not confident in their abilities to cook yet feel an immense amount of pressure to stay healthy and fit. This is where our nutrition sponsorship comes in very handy.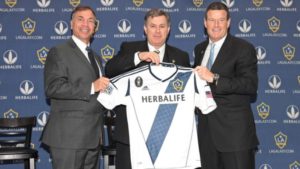 An integral role of Sports Performance and Education in these uncertain times is to work alongside our sports sponsorship teams to support our athletes. We knew we had to pivot what we do on a "normal" basis, in order to maintain the relationships with our athletes and support them as best as we can from a distance.
Relationship Building
To have a successful sports nutrition training and sponsorship program, building relationships is essential to get to know the teams you'll be collaborating with and the players you're supporting. In our case, we work very closely with a number of nutritionists and trainers to ensure that our sports nutrition products are being used as efficiently as possible, personalized to each athlete's goal, to help them excel in their sport.
One of the best parts of my job is being able to witness the immeasurable effort and joy our athletes put into their sport, whether they're close to achieving their long-life dream of playing professional football in the U.S., training for another championship season on the pitch, or even perfecting their strokes in the pool. Playing a part in that journey by providing personalized sports nutrition education is extremely rewarding, and couldn't be done without getting to know each of them individually.
During the COVID-19 training break, consistent athlete engagement has been of the upmost importance. Through this partnership, routine virtual meetings and events have helped keep the athletes on a schedule – something extremely important during a time when all of the days can start to blend together.

– Nicolette Leffler, Sports Performance Dietitian, Herbalife Nutrition, assigned to the Los Angeles Galaxy.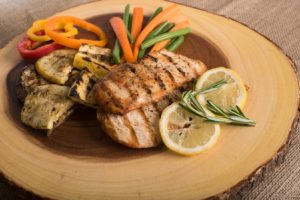 Working with athletes alongside our training partners, I've found that most athletes are not familiar with sports nutrition education. This education has to be personalized, not only because everybody is different and has unique needs, but because athletes understand that everything that is going into their bodies has a purpose. Tailoring to individual needs is how we're able to develop trust. Our athletes put their trust in our team of experts so we can help them reach their highest potential for success. And just like one's athletic skillsets, this trust is something that's built over time.
Staying Engaged
Since the start of the pandemic, many team sport athletes have been struggling to maintain their nutrition and fitness under safer-at-home mandates. However, these athletes continue to feel immense pressure to be at the top of their game and ready to go when the world opens up again.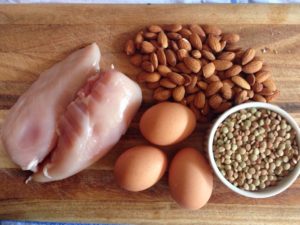 With that in mind, we've prioritized staying connected with our sponsored teams' sports dietitians to make sure we continue supporting our athletes, regardless of these uncertain times. We've conducted Zoom product trainings to help them understand what product supplementation may benefit them, developed healthy cooking contests to keep everyone engaged, and sent product to every player at home. We've also recently hand-delivered scales to their houses, so they have the tools to succeed. While these personal packages are easy to create and deliver, it shows our sponsored athletes that we are committed to helping them while they navigate new training and nutrition schedules at home.
In addition to sending product to players from Impact Basketball who are currently working with Draft hopefuls, we've worked with their sports nutritionist to transition his consultations to video conferencing. We've had our new football athletes participate in sports nutrition trainings this way, with many of them sending videos on how they are staying in shape at home. These videos are then shared with our independent distributors, who can take these teachings to their customers.
Staying constantly engaged is by far the most important thing. Regularly checking in with our guys, seeing how things are going, and assessing progress have been critical. Without this, it would be far too easy for them to slip back into their old ways. Regularly checking in also helps to build a rapport with the guys prior to their arrival, which will, in turn, result in greater buy-in to the Impact training & nutrition program.

– Isaac Mourier, Sports Scientist, Impact Basketball
Understand What Motivates Them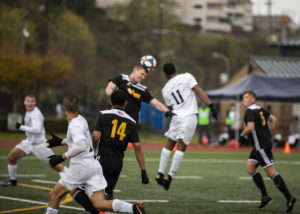 Competition is the main motivation for any elite athlete, but, again, every athlete is different. Whether it's playing for their city and fans or even monetary incentive, understanding what motivates your athlete is a huge indication of how you can help them be successful. We're currently hosting an online Global Cooking Challenge on Instagram with eight of our athletes and teams from around the world, including the LA Galaxy from the U.S., Club Atletico de Madrid Feminino from Spain, and the Sydney Wanderers, from Australia. Though many are not confident in their abilities to cook, their experience with us and the education they've received has reinforced the understanding that it is crucial for them to have balanced meals at the right time to fuel their training. Therefore, the idea of instilling competition around healthy eating made for a fun activity to help get everyone engaged and fulfill that competition gap.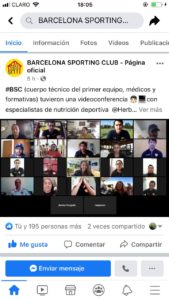 The social media aspect will allow fans to also root for their sports heroes, learn their favorite players' new recipes, and vote on the recipes they like best. Each team will have two entries into a 16-person bracket, which will be judged by the nutritionists and trainers we work with until the finalists are selected. The Grand Prize winner will be selected based on three factors: nutritional value (40%), taste (40%), and fan vote (20%). The winners have the potential to earn up to $10,000 to donate to the winning team's local charity of choice– offering a new way for the athletes can play for their city and also give back.
Herbalife Nutrition is always very quick to go above and beyond in supporting our players with virtual phone calls, supplements distribution, infographics, and recipes. They also understand that competition drives our players to excel at whatever they do. By thinking outside the box, Herbalife Nutrition has presented a new and exciting way for players to lean into their competitive zeal with a global cooking competition to connect HLN sponsored soccer teams from around the world. HLN is so willing to provide nutrition support that will benefit our players in innovative ways, and we look forward to the continued partnership this season!

– Diane Robison, Sports Dietitian Sporting Kansas City
The world continues to open up, slowly but surely, with safe, social-distancing practices in place. Whether resuming games without fans, shortening seasons, or permitting events at a limited number of locations, our job as sports performance experts is to ensure that our athletes remain healthy and fit. Whether we can help in person, virtually, through creative competition or useful tools, the result remains the same—to continue to enjoy sports for years to come.