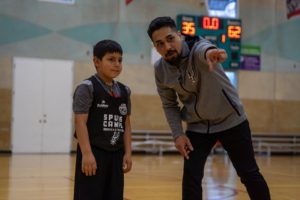 The Spurs Sports Academy, affiliated with the NBA's San Antonio Spurs and aimed at youngsters of all ability levels in South and Central Texas, last week launched functionality to help young athletes stay connected as they train and compete.
Teaming with Austin-based Ballogy, Spurs Sports Academy introduced features like shooting challenges, ball handling, agility drills and more via the Ballogy app.
"Our platform was developed to digitally connect coaches and players and make performance tracking and analysis technology accessible to every athlete, anywhere," said Todd Young, founder and CEO of Ballogy. "As our partners seek continuity in the absence of face-to-face instruction, we're taking our technology a step further by virtualizing camp curriculums and physical education in general."
The Ballogy app tracks and stores results as well as offering a forum for SSA members to connect, compete and network with other players and coaches.
"We are proud to offer innovative workout programs through our camps and tournaments to more than 19,000 young athletes annually in the San Antonio, Austin, and South Central Texas areas," said Joe Clark, vice president of Spurs Sports Academy. "Ballogy enables our program and its coaches to continue to engage with these athletes in a way that's most valuable to them. It is another value-add program that we are pleased to introduce with our partner."