by Dana Ryan, Ph.D., MBA M.A., Director Sports Performance and Education at Herbalife Nutrition, special to SportsMD.com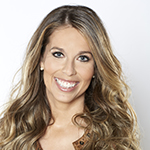 The popularity of soccer is soaring in the U.S. as thousands of kids, weekend warriors and everyday athletes across the country are participating in the game at schools and recreational leagues around the country. Now that Fall soccer season is well underway, an important step in achieving optimal performance begins with nutrition. Many soccer players still are unaware of how important nutrition is and the positive impact it can have on their overall performance.
The Journey to Being A Healthy Soccer Player Starts with Nutrition
Optimal performance on and off the soccer field can be achieved with good nutrition. It's important to begin sports nutrition education at a younger age, especially for young athletes. The greater the demands for increased performance both in training and competition, the higher the nutritional value must be. For soccer players, this means good nutritional habits before, during and after performance.
Creating Habits and a Routine Around Sports Nutrition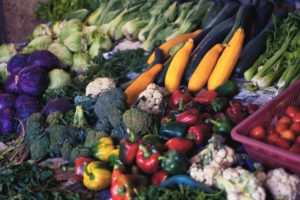 Proper sports nutrition is not just a one-day or game-day activity but rather needs to be incorporated into an athlete's lifestyle. Sports nutrition is based on a solid general nutrition foundation which can be applied to anyone: young, old, athletic or sedentary. It's important to remember that you can turn almost any ordinary task into your daily workout. Making good nutrition decisions into habits, and fueling your body properly throughout the day, not just during your workouts, is extremely important.
What to Eat for Your Position
Different positions require different energy demands and that's why I developed the perfect foods to eat for your soccer position.
Goalkeeper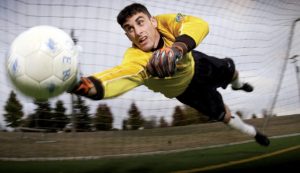 A keeper would benefit from a couple of specific supplements in their diet given the need to maintain concentration, shot-stopping ability, mobility and flexibility. Creatine, when taken as a supplement (3-5g a day) can aid the body's phosphocreatine energy systems, helping to improve muscular strength and short-term power. Depending on the type of creatine used you may need a loading phase at the beginning for maximum benefit. For instance, sometimes I've recommended players to start with 10-15g of creatine for a week, then go down to 5g.
Also, caffeine taken about 30 minutes before a match or training will help with mental focus.
Defender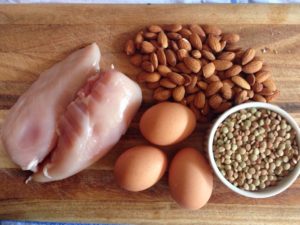 Strength is essential for defenders, making adequate protein consumption incredibly important. Intake recommendations suggest around 1.4-1.6 g of protein per kilo of your body weight– so for a 75 kg player this would be 105-120g a day, spread out to include 25-30g in each meal. Adding BCAA's to defenders' routines would be important as well to help ensure muscle recovery and growth. Aim for at least 5g of BCAA with 3 of those grams coming from Leucine. I recommend a high protein recovery drink with added BCAA.
Midfielder
These players require plenty of carbohydrates as they are constantly tapping into their glycogen stores. Fast-digesting, easily absorbed carbs from sports drinks that deliver high GI (glycemic index) nutrients will help maintain energy levels– with an estimated 30-60g of carbs per hour being the optimal amount for soccer players. Supplementing with additional glutamine can also help protect the immune system as it is constantly taxed from significant cardiovascular work on a daily basis.
Forward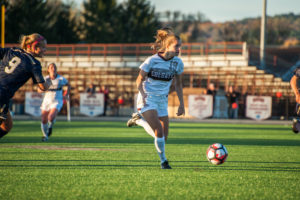 Speed, speed, speed. Easily one of the most important aspects in the game, especially for offensive players. Forwards should consume adequate low-GI carbohydrates throughout the day for additional stamina. We only store about 90 minutes' worth of carbohydrates, so it is critical for forwards to consume carbohydrates as you don't want to get to that final minute and run out of energy taking the ball to goal. Adding creatine to your daily routine is also beneficial as well as always maintaining hydration"
About Dr. Dana Ryan
Dana Ryan, Ph.D., M.A., Director Sports Performance and Education, Herbalife Nutrition, is responsible for helping to establish Herbalife Nutrition as a global leader in sports nutrition. Her primary focus is supporting Herbalife Nutrition-sponsored athletes around the world by developing nutrition and sports performance programs, as well as designing and managing sports clinical trials. Dr. Ryan has worked with members of the LA Galaxy, Flamengo, Pumas, Barcelona FC and Liga in Ecuador, Football Players training for the NFL Combine and others in support of their nutrition programs.
Before joining Herbalife Nutrition, Ryan taught exercise physiology and related courses at Cal State Los Angeles, and concurrently conducted research at UCLA on the impact of community-based nutrition and physical activity programs on heart disease risk. Ryan completed her Ph.D. in physical activity, nutrition and wellness at Arizona State, where she studied the impact of Vitamin D supplementation on endothelial function, inflammation and VO2max in older adults. She also holds a Master's degree in kinesiology and a certificate in nutrition for optimal health, wellness and performance.
She is a passionate athlete, was the coxswain for the University of Washington Division 1 crew team as an undergraduate, and then went on to coach High School rowing in San Diego and Arizona for eight years.