The "Built With Chocolate Milk" campaign may not have the "Q-rating" or marketing "muscle" (pun clearly intended) that one of its counterparts, "got milk" possesses, but it's building a solid roster of professional and everyday athletes from diverse backgrounds and varied sports, in support of the goal of gaining exposure for the health benefits of the drink.
The latest addition is five-time Olympic medalist and 15-time world champion Katie Ledecky, who at 22 has already racked up a world-class resume and the Tokyo Olympics about a year off. Ledecky will be featured in a "Built by Chocolate Milk" campaign that highlights her approach to training, performance and recovery as she works towards the Games next July.
"I'm always trying to be faster – even if it's just by a tenth of a second. I want to see how far I can push myself," said Ledecky in a statement. "I've been drinking chocolate milk for recovery since I was 13, bringing one in a lunch bag with an ice pack to practice. I still drink it on the way home every day. As I have grown and developed as an athlete, I have learned that a lot of things I do outside the pool – like choosing chocolate milk – impact my ability to be my best."
I'm thrilled to be joining Team @chocolate_milk! Ever since I was about 13 years old, I've been recovering with chocolate milk. It's been a huge part of my training and racing routines, helping me go after my goals in the pool. #RealWorks #Ad pic.twitter.com/TwNY0XP4WC

— Katie Ledecky (@katieledecky) August 6, 2019
This history with the product made working with the highly decorated superstar, who fought through a stomach virus competing at the World Championships in South Korea last month, a natural for the team at chocolate milk, which is already the Official Recovery Beverage of USA Swimming.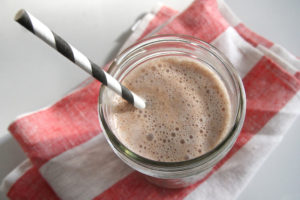 "We've had our eye on Katie Ledecky for years, rooting for her from the sidelines. Her longtime love of chocolate milk makes her a natural addition to the Built With Chocolate Milk campaign," said Miranda Abney, Senior Marketing Director at the Milk Processor Education Program (MILKPEP). "She understands what she does outside the water makes an impact on her overall performance, so she has always prioritized nutrition and recovery, meaning she's had her eyes on us, too! We are honored to formally welcome Katie to the team, and will continue to be by her side for the next chapter of her journey."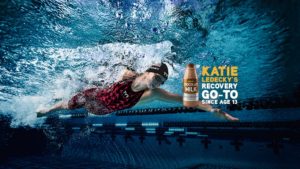 Some of the other professional stars with "Built with Chocolate Milk" are
Philadelphia 76ers veteran Al Horford, 2017 US Open women's tennis champion Sloane Stephens and cyclist Alison Tetrick.
Numerous recent studies have touted the benefits of chocolate milk, in particular as a recovery beverage. With all the formulated drinks out there, could something as basic and natural as chocolate milk really be the best for post-recovery? Gold medals don't lie.