At nearly 40 years old, Laura Di Franco had a lot going for her: she was a wife, a mother of two children and the operator of her own physical therapy practice. But something was keeping her from experiencing happiness. "I was in the middle of a really great life, and fear kept me from happiness," she writes in her new e-book, Living, Healing & Tae Kwon Do: A Memoir to Inspire Your Inner Warrior (Brave Healer Productions, May 2019).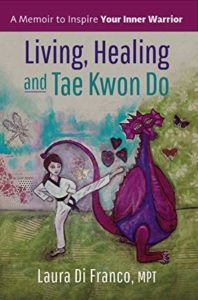 She writes, "Like many others, I felt better in my comfort zone. Why get risky when you can play it safe? But staying safe was costing me my health and my joy, and that cost became too high. I felt exhausted and unhappy. I followed the rules (as in, every­one else's), didn't upset anybody, never spoke up, never said no, and started burning myself out. Somewhere along the line, I lost my voice, and that took a toll on me physically and mentally."
Di Franco discovered the key to a more joyful life was pursuing activities she was passionate about; chief among them was taking Tae Kwon Do lessons with her then six-year-old son Jonathan. The lessons allowed her to fight her inner demons and get in kick-ass shape.
She took some time to talk to SportsMD recently.
SportsMD: You sustained numerous injuries in your first Tae Kwon Do classes (abdominal tear, jammed toe, bruised feet and a pulled leg) – how did you get past that and learn to love the discipline?
Laura Di Franco: As a healer I understand injury, illness and setbacks as opportunities to grow, get stronger and meet my goals. Tae Kwon Do is one of those sports that demands your presence. And that's exactly why I love it. The practice and discipline helped me be the person I am today. The early injuries were a challenge but motivated me to come back and try again, a little smarter each time. The injuries taught me to listen to my body in the moment and not let my competitive nature overrun my common sense about what my body was capable of. I learned so much in those first few months.
SMD: How did including your six-year-old son in the lessons help you stay with Tae Kwon Do and strive to excel?
LDF: Bonding with my son through a sport like Tae Kwon Do was such a gift. We supported each other throughout the six years of training, cheered each other on through tests and competitions, and really had an unforgettable experience in terms of motivation and perseverance. Knowing he was there alongside me forced me to do my best every single time. Knowing he was watching and listening forced me to be the very best role model. I wouldn't trade that time for anything.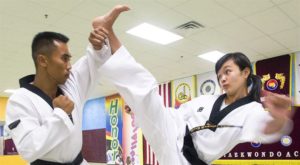 SMD: How did fitness and participation in Tae Kwon Do help you overcome your resentment for mundane tasks like folding laundry and learn to be more grateful for everything in your life?
LDF: Tae Kwon Do is a sport but it's also a way of life. In the dojang I learned to be aware, master my mindset and practice integrity. Everything I learned in class had carryover in daily life. When I learned to listen to my thoughts of doubt, worry, fear and resentment during a class or a test, I'd be able to hear those voices easier during my regular day at home or at work. I recognized when I was sabotaging myself, even when I was just doing things like the laundry, and was able to choose thoughts that served my goals and dreams instead. That was a really powerful shift in my life.
SMD: What if Tae Kwon Do doesn't "do it" for someone? How can women find that endeavor that changes their lives?
LDF: Combat sports aren't for everyone but it's finding something that pushes you out of your mental, physical and emotional comfort zones that is the key. Trying new things, meeting new people, using your mind and body in different ways; all these things can change your life. Healing happens in small moments, in the thoughtful words of a coach, a boss, a friend, a spouse…if you're awake enough to listen. Any endeavor that helps you practice slowing down, listening to your inner voice and getting in touch with who you really are is an endeavor with the potential for authentic healing and transformation.
SMD: How tightly connected do you see physical and mental wellbeing?
LDF: Physical and mental wellbeing are inseparable. One works, or not, as an integration with the other. True life mastery happens when you figure this out and practice both every day.