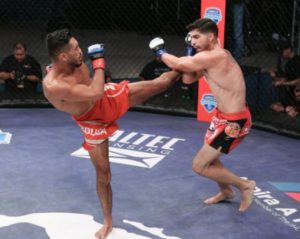 The sport of mixed martial arts (MMA) has become increasingly popular over the past two decades, with the Ultimate Fighting Championship (UFC) the dominant player in an industry which has seen an alphabet soup of organizations come and go over that time. Incorporating boxing, wrestling, kick boxing, jiu jitsu, karate, judo and other martial arts, honed over years of practice, MMA fighters need a training regimen that includes a variety of workouts to manage the range of skills, with an eye on recovery and risk of injury inherent with getting into a cage or ring with another athlete trying to inflict damage.
Ken Yasuda, a bodybuilding champion turned trainer, has years of experience training MMA fighters, which was highlighted with his stint as coach of the Tokyo Sabres team in the International Fight League (IFL), a team-based MMA organization in the mid-2000s. Yasuda trained some of the league's best athletes like Savant Young, Vladimir Matyushenko and Antonio McKee, and continues to work with fighters and others, using techniques from the Far East as well as the U.S. from his home base in California.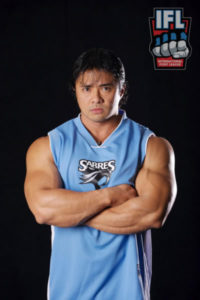 Yasuda, who also trained future Baseball Hall of Famer Ichiro Suzuki, took some time out recently to discuss some of those methods as well as his venture with UFC Hall of Famer (and fellow former IFL Coach) Don Frye with SportsMD.com (answers lightly edited for length and clarity in some cases).
SportsMD.com: What are some of the training methods you use with MMA athletes that differ from other sports?
Ken Yasuda: A main one is to do repetitions of the same movement with weights or resistance for a certain period of time in order to build muscle endurance. Muscle endurance cannot be developed by just doing endurance exercises such as running and bicycling. For people who never hit a heavy bag, their understanding is "endurance is endurance,"so that they tend to say have them do bicycling in the mountains and doing interval running. I definitely have fighters do these to enhance their overall endurance. I separately have fighters do muscle endurance training, combining with explosion exercises. Often times, when a fighter does not have muscle endurance, his muscles give up quickly due to the extreme burn from the lactic acid. Not only do the muscles get tired fast, but also the burn makes the fighter incapable of moving.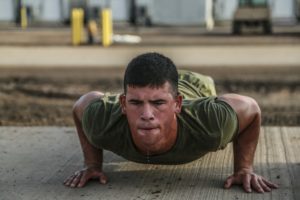 Another method is to put explosive power movements in the middle of conditioning training. As fighters are breathing hard and exhausted from doing 60 seconds of push ups, 60 seconds of pull ups and 60 seconds of jump lunges back to back, I have them do power cleans as explosive as possible. The reason is that they have to be able to use their explosive power to hurt or knock out their opponents even when they are tired during a fight. Their bodies have to be in shape, powerful and need to learn how to bring out KO power when they are very tired. Well conditioned and trained fighters are able to do this. "Finish your opponent!" becomes feasible always!
SMD: Which elements of your work in bodybuilding are effective in MMA training?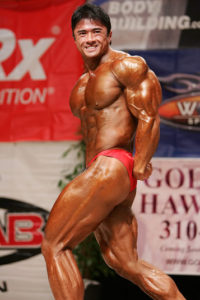 KY: Bodybuilding is really about understanding exercise physiology, anatomy, nutrition, fat, muscles, energy, etc. As I was always telling my fighters on the IFL's Sabres, depleting water to drop weight in sauna is stupid and primitive. I never had them do that and easily depleted water to drop five pounds or more overnight by controlling nutrients. It is science. In a sauna, sweating out forcefully, will make them lose nutrients and often times there is an electrolyte issue. In one day, most fighters' bodies do not recover 100%. As a result, they can get knocked out more easily. Basically, their bodies are weaker than normal while they have to be the toughest guys in the cage. In bodybuilding, we control nutrients and deplete water from out bodies to have a dry look. With a nutrient unbalance such as a lack of electrolytes, muscles would cramp up and we wouldn't be able to even stand on stage.
Another key thing in bodybuilding and very effective in MMA is to reduce body fat without losing lean muscle mass and strength. Why? By doing any kind of exercises / training and dieting down hard without knowing the science behind it (which many fighters do) in order to make your weight, you will not only lose fat weight but also muscle weight. As a result, you will lose strength as well. So, the wise way is to select easy cardio just to burn your body fat without losing muscle mass for the purpose of bringing down your body weight. For intense cardio and training to enhance your fight performance, you have to make sure to intake enough carbs so that your body will not use your fat or muscle as energy. In other words, you have to separate fat burning cardio and performance enhancing cardio & training, which is also part of bodybuilding training.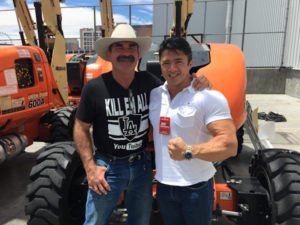 SMD: You and UFC Hall of Famer Don Frye have teamed for Ultimate Fitness online training. Is it just for high-level athletes or can anyone benefit?
KY: The site is for everyone! I can train/coach anyone from a 10 year old all the way up to the top pro athletes. We as champions can show a lot from our experiences and achievements.
SMD: What would be your advice to young fighters looking to break into MMA, from a health and fitness standpoint?
KY: MMA has evolved significantly last 25 years. This means that more people and better athletes are coming in the fighting game. Like any pro sport, athletes must take care of their bodies by eating healthy and clean food, training properly, practicing correctly. In terms of skills, many fighters at the top level are very close. However, being well conditioned meaning healthy and fit gives an edge to win. Learning from the right coaches who really know nutrition, physiology, fights, training, etc is very important. I have done it all myself and I can do it as of today although I am almost 50. I do not believe that coaches or trainers, who have not done it or cannot do it, can teach correctly. To young fighters, begin to learn nutrition and physiology on their own, and also find good coaches who really know.
SMD: What have been some of your favorite moments in training athletes, whether elite or regular "Joes"?
KY: It is always the moment that I have to be a scary and bad guy to push athletes to overcome their weaknesses during training. They tend to hide or run away from hardships by making excuses or lies. I have to have no mercy and make them go through training even if they throw up or start to cry. "I don't accept acting and weak mind!" It is not for me, but it is for them. Personally, I do not want to do that, but I care about them winning and being happy, I have to do it even though it hurts inside of me. If I get soft and let them do what they want to do, we all lose. I always fought against myself and made sure I did my best to win. That was the hardest part of bodybuilding unlike MMA. Pro bodybuilding was an isolated, lonely spiritual world of fighting against myself. In MMA, at least, there are several coaches and training partners always. When fighters responded to my cold blood killer training by overcoming their weaknesses, I was always very pleased. Usually the outcome of that was "W" in a cage!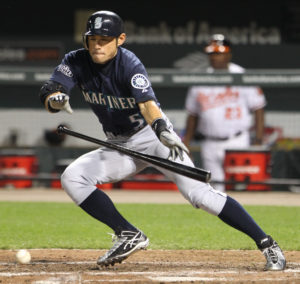 SMD: What was it like working with Ichiro Suzuki? What did you do with him?
KY: It was a lot of fun. How we met was destiny. I was training myself with leg presses pushing 1000 pounds for reps at a gym. Ichiro and his manager were talking about me from a few feet away in Japanese. I finished a set, and I turned around to look at them. They bowed like any Japanese would do. I asked them if they were from Japan. They said they were and complimented about the poundage and my leg size. I had to flex my "quadzilla!" I asked him if he played any sport. It was hilarious. I did not know who he was. It is like not knowing LeBron James and asking him what he does! I had left Japan many years ago, and did not know what was going on there. He said he played baseball. His manager could not shut his mouth and said he was seven-time batting king and the best of the best in Japanese pro baseball ever. That still didn't make much of an impact somehow. He asked me if I could train him. That is how it started.
It was in a way a mutual respect. I was not coaching nor training anyone since my job was pro-bodybuilding, but I decided to train him for baseball since I could help him get much better to come to the Majors. He was eager to learn nutrition (eating) and becoming stronger and bigger for baseball. In training, we did strengthening and muscle building. He needed to gain extra pounds of muscle for the Major Leagues since he was too skinny and weak. Also, his energy level dropped dramatically in the middle and end of each season due to fatigue. We covered that with nutrition and training for maintenance. I trained all his body parts to have a good balance of strength and muscle mass. I do not believe that baseball players only need to strengthen certain parts like forearms, etc. Baseball requires every single muscle group!!!!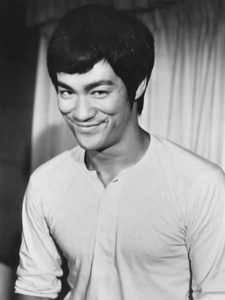 We were both big Bruce Lee fans. We made a 15 minute Wanna Be Bruce Lee movie together. As a top athlete who holds Major League records as of today, Ichiro always paid attention to his fitness and health. I must also say that he is not talented nor gifted as if he is a special guy. He is just like us, but I can confidently say that he was one of the hardest workers whom I have ever seen. Sacrifice, dedication, effort, consistency, drive, focus…he had them all! From outside, you cannot see this. People just said he is genius. He hated the word. I agree. As he excelled in baseball both in Japan and the U.S., I pulled the positive energy used in pro bodybuilding and the IFL head coaching by feeding off each other. I believe that sharing achieved and positive energy will take you to even further than the place you can never imagine.