One of the biggest stories in sports last year was the improbable run of the Loyola University men's basketball team in the 2018 NCAA basketball tournament. The 11th-seeded Ramblers found themselves in the Final Four at San Antonio's Alamo Dome among hoops powers Villanova, Michigan and Kansas, an accomplishment few predicted.
And though the story of the great Sister Jean, team chaplain, gained tons of attention for the school in its first men's basketball tournament appearance in more than 30 years, another lurked just to the side, though it might make a better fit for Chicago Medicine Magazine than Sports Illustrated.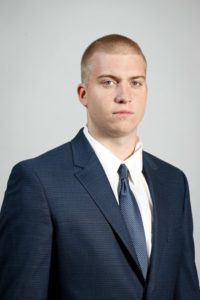 The 6'8″ Nick DiNardi was a backup on that Final Four team, but just being able to walk out on the floor may have been a bigger accomplishment than those of his more heralded teammates. Ten years prior, DeNardi was diagnosed with the incurable, painful Crohn's disease. The gastrointestinal ailment causes inflammation to the digestive tract, leading to abdominal pain, severe diarrhea, fatigue, weight loss and malnutrition.
For many, that might have signaled the end of a budding basketball career. But not for DiNardi, who despite losing 40 pounds in a month at one point, persevered, making accommodations as needed to continue on the hardwood. The journey had ups and downs, but with the support of his family, coaches and teammates, DiNardi was able to fulfill his college and athletic dreams.
Now, DiNardi has found another passion: the quest to eradicate Crohn's and other IBD's. He currently works as a research assistant at The University of Chicago Section of Gastroenterology. His work is funded by the GI Research Foundation (GIRF). GIRF's goal is to prevent, treat, and cure digestive diseases.
DiNardi attended the GIRF annual ball on June 1, addressing the crowd with his story. Following the event, he discussed his disease, his basketball career, and his work in medicine with SportsMD.
SportsMedia Report: What were some of the accommodations you had to make as relates to your basketball career at Loyola?
Nick DiNardi: When I was officially asked to become part of the men's basketball team at Loyola University Chicago, I immediately had a meeting with the coaches and the medical staff to discuss my Crohn's disease. I informed them about what Crohn's was and about some of the ways in which it could affect me while playing college basketball. From the everyday fatigue factor to the more severe symptoms like abdominal pains, I let them know that if there was a choice between my health and basketball, that I was going to make sure my health was taken care of before basketball. Without hesitation, head coach Porter Moser and our head of sports medicine Corey Oshikoya both agreed that my health was the most important thing. Corey would make sure that any time I had any blood work or tests done that he had access to the results, and he kept a close eye on me to make sure I was always healthy.
There were several times throughout my career where I had to take a step back from basketball to make sure I was not going through a flare up. At the start of my first year on the team at Loyola, I was dealing with chronic fatigue due to being anemic. Because of this, I had to go to an infusion center once every month to have an iron infusion in order to counteract my low iron levels. The most difficult accommodation I had to make was in December 2017 where I was hospitalized for 3 days due to severe abdominal pain. This took away from about a week of collegiate play and travel as I made sure my body was healthy enough to compete. One of the most common accommodations I had to make was as simple as stepping off the court for 5-10 minutes while I gathered myself after a short stint of abdominal pain. Once I was free of the abdominal pain I would be able to join in on practices again, but I always made sure to listen to my body and what it needed before stepping back on the court.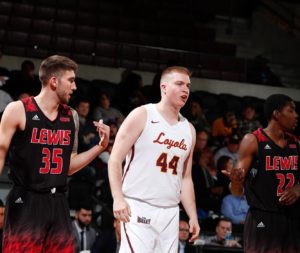 SMD: At what point did you decide to make medicine your career and what were some experiences that you had that pushed you in that direction?
ND: When I was a sophomore, I had my first flare up as an adult without the direction of my parents to help with treatment. For the first time in my life, I had control over how I would fight my flare up. I started researching different types of diets, the mechanism of action for the drugs I was taking, and ways that I could improve my overall quality of life. After trying to understand my disease as much as I could, I was able to recall how much I truly enjoyed the sciences and how much I especially enjoyed learning about my own disease and its intricacies. In addition to this, after looking on many websites about IBD, I realized how many people out there were having negative experiences with their IBD. This inspired me to change the course of my academic career to a pre-med tract where I could study chronic illnesses to not only help those who suffer from them, but be a patient advocate for those who suffer from Inflammatory Bowel Diseases.
SMD: How did you get connected with the University of Chicago and its Gastroenterology section?
ND: When I was 13 my first gastroenterologist retired, which allowed me to look into seeing a new specialist for my treatment. A family friend of mine, Carlene Motto, connected me with Dr. Russel Cohen who specializes in treatment of Inflammatory Bowel Disease at the University of Chicago. From there I had my first appointment with Dr. Cohen and immediately built a rapport. He asked me many pressing questions important to my health that I had previously not been asked. He put me onto a maintenance therapy which kept me in remission throughout most of high school.
As for working at the University of Chicago, I was visiting for my routine colonoscopy when I was 20 years old and was approached to be a part of a research study. I made conversation with the person who approached me for the study and we exchanged contact information in regards to any research opportunities that may become available. Within the next three months I was volunteering in an immunology lab under Dr. Bana Jabri. After I graduated, she hired me full time where I now work on several different studies in Inflammatory Bowel Disease and Celiac's Disease. The most rewarding part of my job is that I get to interact with other IBD patients on a daily basis.
SMD: For Division I athletes, science majors and labs often conflict with practices and games. How were you able to manage both?
ND: Balancing the sciences and Division I athletics came with a learning curve, however, I had great guidance in the Loyola Athletics Athlete Advising. Due to the demanding hours of practice, workouts, games, and travel, finding time to go to labs and study for coming exams was challenging. It took the development of time management and organization skills to be able to juggle the two efficiently. One of the ways that I counteracted my busy schedule was to take summer classes. Since we had to be on campus for summer workouts, this was an advantage for me to take several classes during the summer where I had more free time to focus on my studies.
My greatest challenge occurred during our March Madness Final Four run where we were traveling every week to a different city for about four weeks. During this time, we were only able to attend our Monday classes before traveling on Tuesday mornings to our next destination. During this time I was taking Physics II and missed the last four weeks of classes. With the help of tutors and our academic advisors, I was able to stay on track and make up all the necessary work for me to get through the class on time.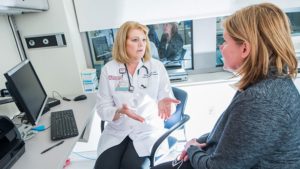 SMD: How active do you remain a year removed from the daily grind of college basketball, and are there any limitations that Crohn's causes as far as fitness?
ND: I have remained very active after being removed from the challenge of college basketball. I work out at Orange Theory 4x a week and try to play basketball whenever I get a chance, whether it is in the drive way with my little brother or in local leagues. I find that when I am as active as I can be, I feel much healthier and I am able to handle whatever my Crohn's throws at me in a better way.
SMD: What is your message to other Crohn's sufferers, especially younger ones, as relates to remaining active physically?
ND: One of the best pieces of advice that Dr. Cohen has given me is to listen to my body. When I remain active, my body always feels much better and stronger, that is why it is such a big part of my lifestyle. I believe that every young person diagnosed with Crohn's disease should live out their lives in the way they want to, without any restraint. If this includes playing your favorite sport or even just playing outside with your friends, then you should do that without having to worry about their diagnosis. However, as a Crohn's patient myself I know there are many days were being active can be a challenge. That is why listening to your body is so important!
SMD:  You mentioned that magical run in your senior year. How exciting was it for you to conclude your college career with a Final Four?
ND: Being a part of the Loyola Chicago Men's Basketball team was such an incredible way to end my senior year. The two years I was on the team were incredibly rewarding because I was able to challenge myself physically and mentally while building relationships with some of the best people I have ever met. During our 2017-2018 season, there was a strong bond between all of our team members that led to the improbable run to the Final Four. Every challenge we faced, we overcame it together as a team. It was a great way to exit my senior year as I now can take those same skills used for basketball and bring it into the classroom to improve team work and communication.
SMD: What were some takeaways for you from the GIRF ball?
ND: The biggest takeaway from the GIRF ball last Saturday was that there are so many people out there who are dedicating their lives to treating and solving these digestive diseases. From being an 11 year old kid feeling alone in my diagnosis, the GIRF ball gives me hope that everyone diagnosed with Inflammatory Bowel Disease can realize they are not alone in this fight. There are so many people committed to patient advocacy that can help mentor others to overcome their diseases and live a long and healthy life.
Cover Image: GI Research Foundation