A seven-year NBA stint that followed a standout career at the University of Arizona meant plenty of reps up and down the hardwood for California native Chase Budinger. When he left the big stages of high-level NCAA and then pro basketball following a year overseas after the 2016-17 season, his competitive fire kept burning. So Budinger turned to another love, volleyball, and has made his way on the AVP, the country's preeminent beach volleyball circuit.
And while many of the skills that made him such a success in basketball translate well to volleyball, there are plenty of differences, with the playing surface the most prominent–jumping for an hour or more on sand, quickly recovering and then jumping a few hundred or so more times requires a different regimen, physically and mentally. He took some time to talk to SportsMD in advance of his next AVP appearance, in New York June 7-9 at Gansevoort Peninsula in Hudson River Park, about his two pro sports endeavors and how the transition is going.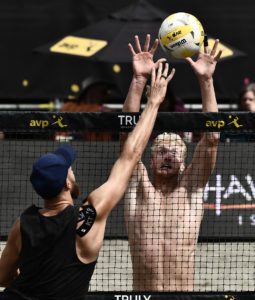 SportsMD: From a training standpoint, what is the biggest difference between NBA and the AVP?
Chase Budinger: The biggest difference, in my opinion, is in basketball you train for 1 game per day. So you go out and give it your all for that game and then you have a whole night to recover. In volleyball, you are playing a minimum of 2 matches a day so you have to train your body to recover faster to be able to last the whole day for multiple days.
SMD: How has your mental approach to being a professional athlete changed or not, in your career transition?
CB: I feel I have the same mental approach from both sports. I use the same work ethic I had from basketball and use it for volleyball. The only different mental approach I have going into tournaments is I tell myself not get to frustrated because I am still new to the game and learning from the experience. It's all a process to get better.
SMD: Whats the biggest misconception people have when they hear about your latest career path?
CB: People say I went back to my first love of volleyball. That isn't true. I grew up a basketball player and all I wanted was to make it to the NBA. That was my dream! That part of my life is now done and I have a new dream. To play in the Olympics for the USA one day in beach volleyball.
SMD: What does a training day look like for you now?
CB: A morning practice, which last about 2 hours. Grab a bite to eat then head to the weight room. Lift about 3-4 times a week. After, I have some down time to relax or recover. Then about 3 times a week I add some type of conditioning in the later afternoon.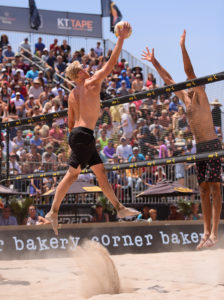 SMD: Who is the most fit athlete, or athletes, you have been around and why?
CB: This will be a odd answer but I think swimmers are the most fit athletes. They spend 6-8 hours a day in the water swimming. Their diets consist on replenishing what they have lost which means they need to eat more! Most other athletes are on diets and have to watch what they eat.
SMD: For young people, or parents, be it basketball or beach volleyball, what is the one common tip you can give them about staying fit and active?
CB: I think you should have your kid try all sports growing up. See which sports the kid enjoys the most. For myself, I played them all and narrowed them down to basketball and volleyball. As far as staying fit and active, the number one thing you can do is just get them to play outside. Get them away from TV, video games and technology. A way to do this is to send your kids to camp.
Cover Image credit: Mpu Dinani/AVP