Snowboarding has increased in popularity worldwide in the past three decades, with the sport's inclusion in the 1998 Nagano Olympics serving as an introduction for many. With more winter resorts accommodating the burgeoning number of active snowboarders across the country and the world, and more trying the sport for the first time, an increase in injuries, some specific to winter sports in general and snowboarding in particular, was inevitable.
Pro snowboarder and AASI Level 3 certified instructor Blake Tholen Clark has seen his share of injuries in amateurs, many resulting from poor technique. The head developer of Flowing Freeride Pro Snowboard Training shared some of his thoughts on the best practices in preventing and healing them in this guest column.
—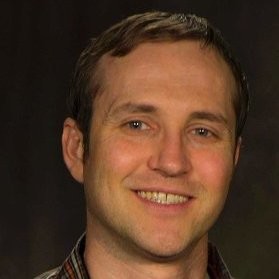 You want to stay healthy when doing a physical activity like snowboarding or skiing. You need to train during the off-season. Stay active by going to the gym, bike, hike, run, swim or do other physical activities. You need to eat and drink the right foods and liquids to stay healthy. I live and work in the mountains and I need to drink a lot of water. It is important to stay hydrated so you don't cramp up, to help prevent sickness and deteriorate joints and muscles.
The best way to stay strong and healthy is to prevent injuries by keeping your body fit or 
Being Snowboard Fit
. You need to ask yourself do you know how your body works and moves most efficiently? If you know how your body is built to flex and extend and the types of movement patterns that maximize your range of movements you don't hurt and stress your body. I studied how the body moves and works. Once I learned that, every sport that I participated in became easier. My movements were so much more efficient and clean that I improved and accelerated. If you know these types of so-called "secrets of the body" you can prevent injuries because you know how to make the body work the best way or most efficiently. Our bodies are magnificent machines that move and create power. You can learn to move with little forces of gravity when snowboarding and skiing. You need to understand the G-forces that can be produced by certain types of movements and when you're snowboarding and skiing you have gravity on your side to increase those types of G-forces.
If you do get hurt use your insurance. There is a lot of medical research and experience that they can give you so make sure that you go into rehab to start rebuilding your injured area. Having electrical shock therapy and acupuncture helps to rebuild your injured area. You might even need to have surgery. I think one of the best things to do is to start burning more of the calories that you intake. Burn more than you intake. With most injuries putting weight on it can be stressful. You can be in an unweighted environment like a swimming pool to do exercises.
I found that stretching doing things like yoga really help you bounce back from injuries. You want to start lightly and doing things that don't stress your injury out but the more that you can strengthen, flex and stretch these areas that are injured the better that they're going to heal. A lot of times the joint that's injured needs the muscles around that to be stronger so that it holds the joint together. You need to do some strengthening and build muscle up around that injured joint. There's a lot of exercises and rehab that you can do so go to a therapist, a physical therapist or a specialist they can help you get doing the right exercises for that type of injury. If you get a concussion you can get treatment from the 
Queen of Concussions Lauren Ziaks
. We have collaborated on projects and she has some training tips you can watch in these videos: 
Glute Med Activation
&
Snowboard Hip Abductions
.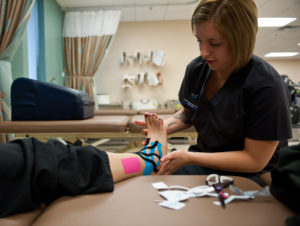 KT Tape
 prevents bruising and helps secure joints. You want to relieve stress, pressure and increase stability when you're injured. When you increase the muscle stability your joints are held together better. If you watch sports you'll see that a lot of athletes are using the KT tape to allow them to be able to perform at high levels. If you're injury has swelling you can take an anti inflammatory like ibuprofen. You can use a foam roller to help work the injured area along with icing and resting your body. It Helps with other things but you can use KT tape as a way to make your injured joint stronger.
One thing you can really do is drink a lot of water and take vitamins. I think fish oils really help out because they lubricate your joints and then vitamin B is really good as well. There are also types of oils from hemp make like CBD or THC oils that can really help regenerate and improve and heal you. Along with daily exercise and diet there are things such as oils that you can put on topically or ingest that will help you to increase the healing process. Don't rely on using medicines to heal you. Try to work out almost every day if you can do 30 to 60 minutes of cardio and 30 to 60 Minutes of strengthening that's really going to help you in every aspect of your life. You're going to feel better and stronger. If you don't use it you lose it so never stop moving keep going. You don't want to take long periods of time of being stagnant. You'll start to get atrophy and gain weight making you not as healthy.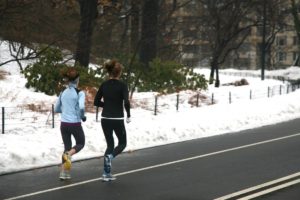 Stay active by doing things that you love. I love snowboarding. I love mountain biking. I love hiking. I love being in the mountains, traveling and I like to being active and being able to move. I want to be able to enjoy the things that I love doing in life. I go to the gym, stay active and treat my body well. Don't drink too much. Don't excessively use drugs. Try to keep things in moderation. Sometimes you have to use medication, you have to use drugs to to help medicate to help you heal but just know that you become immune to those medications. You build up a tolerance and then you have to use more. Try to use natural alternatives.
I do a lot of exercise to stay fit in the off-season I do a lot of training so that I can last all through the snowboard season. During the snowboard season I snowboard and ski almost every day. I need to be really fit and able to get up and take care of my body. I make sure that I don't take a lot of risks. I go to bed early, wake up early and make sure I get plenty of rest. I don't go out late. I don't drink a lot or go out and party because I need to take care of my body. I think that being up in the mountain air also is better for you. I breathe clean fresh air every day and get to exercise out in the beautiful mountains. My office is on the mountain and it's a great office to be in. I want to be able to enjoy it for the rest of my life. I take care of myself. I stay fit and workout. I snowboard everyday and that's keeping me young and happy.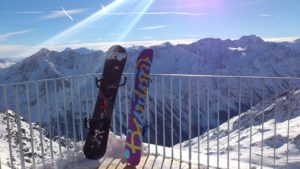 I look at myself and I compare myself to other mates that I went to school with and they don't look like me. They look older and they've just aged more or they have more stress. They also might not exercise as much as I do. Snowboarding and skiing keeps me looking and feeling young. I try to limit the amount of stress in my life. I keep my house clean, things tidy and that way I stay clean and organized. Having good hygiene is part of it too. I make sure whenever I come home from snowboarding that I shower, get out of my boots and change into clean underwear and socks. I shower again in the morning too so that I stay fresh. You don't want to have all that sweaty bacteria staying on you, get that off. I like to shower in the snowboard season two times a day.
In summary you want to make sure that you get plenty of rest and that you burn what you put into your body. Make sure that you're putting good foods and liquids into your body. Don't be excessive in the amounts of alcohol or drugs that you use. Get plenty of sleep and don't stop. If you you don't use it you lose it. Enjoy your life by doing what you love. Don't have a lot of stress. Work out a lot and enjoy the snow like I do when I ski and snowboard in the winter. If you do these things you live a healthy, happy and strong life.
Cover Image: Snowboarding (Unsplash-Emma Paillex)