The 2019 Major League Soccer season is just a few weeks old, and thousands of kids and adults are taking to the pitch across the country as "The Beautiful Game" arises from its winter slumber with the start of spring. With conditioning and injury prevention such a key part of healthy lifestyle, we decided to ask a pro for some tips, as part of a new weekly segment we will be doing.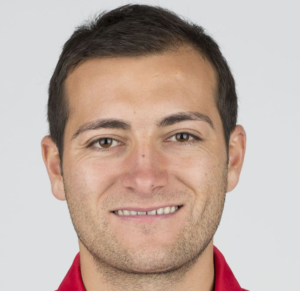 First up is veteran coach Tony Jouaux who heads Strength and Conditioning for the MLS' New York Red Bulls.
Jouaux joined the Red Bulls ahead of the 2015 season and is now in his fifth year. He works closely with the First Team coaching staff to establish training plans and increase athletic performance. He also oversees strength and conditioning coaches for the club's USL and academy teams, in tandem with Adam Rotchstein, NYRB II Strength and Conditioning Coach and Patrick Dolan, Red Bulls Academy, Strength and Conditioning Coach.
Prior to joining the Red Bulls, Jouaux spent four years with the Chicago Fire, from 2011 through 2014. Born in Auxerre, France, Jouaux earned his Master's in Exercise Physiology with a concentration in strength and conditioning from the University of Louisville in 2011, where he worked with both the men's and women's soccer programs. Jouaux played professionally for A.J. Auxerre in France before entering the University of Burgundy to study Sports Science in 2005.
We asked Tony about training the elite, and how that translates down to all who enjoy the game.
In soccer, how different are training routines for elite players vs. those playing on a youth club level?
Professional players will arrive on site up to two hours before training. During this window, breakfast, recovery work, or film sessions are handled. Coaches may also choose to meet with players individually or in smaller groups to review tactics, performance, or to just check in on them. After team training, time is spent on skill acquisition and specific positional work. Strengthening in the gym work, and treatment with the athletic trainers usually follows, and finally with post-training meal. It is usually a five-to-six-hour day. On the other hand, our academy players are enrolled in the respective schools full time, and travel all over the tri-state area through the greater New York city traffic, arrive for 6:30 p.m. training, practice, strength train, and perform film work all within two hours. It is a much more chaotic environment as they are full time students away from the facility, but have a full-time obligation with the club as well. The kids spend much of their time in the car, eating, sleeping, and completing homework.
What are some of the key similarities and differences?
The biggest difference is the consistency of schedule. For professionals or players part of an elite academy, there are many variables factored into their 'training week.' For example, not all days are hard, some are medium or light, or even strictly recovery in nature. Having consistent access to the players (five-to-seven days a week) allows for an undulation in high-low days in order to optimize performance by match day. Many youth club levels simply train as hard as they can 2-4 times a week and play on the weekends. The lack of consistent schedule throughout their week, and one week to the next, gives coaches fewer options to individualize the training for the group.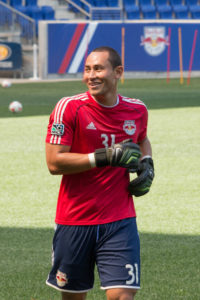 Who are some of the athletes you work with who amaze you with their work ethic?
We are very lucky to be part of a club who does not talk about culture, but rather demonstrates its principles on a daily basis. From the top to the bottom, our philosophy on and off the field is defined by work-ethic, so fortunately, you must outwork even yourself just to survive in this club. Chris Armas, Luis Robles and Bradley-Wright Phillips consistently demonstrate the hard work and time commitment it takes to achieve greatness. Their careers speak for themselves, and we are lucky to be around players and coaches with such character leading our charge. Positional film work, extra touches on the ball, time spent with athletic trainers to stay healthy, extra reps in the gym with the strength staff, one on ones with our nutritionist to review hydration or blood work results…every day we are lucky that we get to work with players who seek all of these opportunities out and do not have to be chased down like other clubs. The players keep the staff busy here.
What are some of the easiest injuries to avoid on the pitch no matter what the level of play?
Playing competitive sport, especially a running-based sport, will always have its inherent risk; however, my primary role is to make athletes more robust to common soft-tissue injuries such as quad or hip flexor strains, pulls of the hamstrings or groins and so forth. Through appropriate strength training and proper periodization of practice loads through working with the coaching staff, most non-contact injuries are greatly reduced. Unfortunately though with soccer being a contact sport, there are many injuries to the head, knees and ankles which cannot quite be prevented.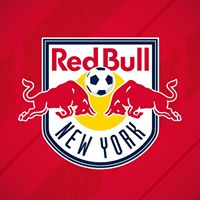 What are some of the biggest misconceptions with regard to training around soccer?
Referring back to how many youth teams or clubs who lack proper resources, tend to train hard and complete a 90-120 minute training session simply because that is the window of time they have the field reserved for, even though it may not be in the athlete/team's best interest. Lastly and more specific to my role, many coaches and trainers think that fitness needs to be developed through running alone, when fitness can be progressed and peaked by aligning tactical and physical goals throughout the training plan. Knocking out two birds with one stone, if you will. It is important to know when to push the athletes hard, and when to back off. Communication will always be the greatest asset in achieving this.
For anyone taking to the pitch, what's the most important thing to remember when trying to avoid injury and play a healthy lifestyle?
A few considerations here: Begin strength training regularly at an early age, focusing on technique and fundamentals in the gym before significant loading; As many recovery gadgets that exist today and are indeed helpful, sleep and rest will always be the two best ways to recover and regenerate; Lastly eat clean and often..soccer is a very taxing sport with many calories burned in trainings and matches, be sure to refuel after every bout. There are no magical secrets to staying injury-free, but rather consistent habits will be the way to a long and healthy career.
You can follow Tony and all the drama of the Red Bulls all season at https://www.newyorkredbulls.com/.