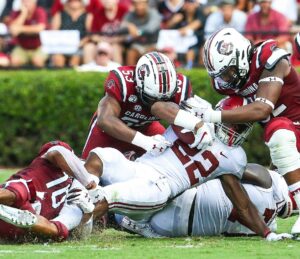 NFL hopefuls across the country are preparing for next month's NFL draft, with most participating in pro days at colleges. They'll want every edge in speed, explosiveness and staying healthy, and a key element for more than 100 prospects will be what's on their feet, and, with apologies to Mars Blackmon, it's gotta be more than the shoes.
Today, VKTRY GEAR announced that those collegiate standouts will be wearing their carbon fiber insoles during their respective showcases, including projected first-round selections like Alabama RB Najee Harris, Florida TE Kyle Pitts, Virginia Tech CB Caleb Farley, Miami DL Gregory Rosseau, Miami DE Jaelen Phillips and LSU WR Terrace Marshall.
"Many of our relationships with NFL stars began at the Combine where athletes experience +9.3% added explosiveness from their VKs," said VKTRY CEO Steve Wasik in a statement. "Most athletes see significant improvements in the broad jump, the vertical jump and their time in the 40. They really feel the difference and understand how VKTRY Insoles can help them get an edge both at the Combine and on the playing field. Athletes also appreciate the improved injury protection with VKs, recently proven by one of the top athletic research facilities in the world, the Korey Stringer Institute at the University of Connecticut."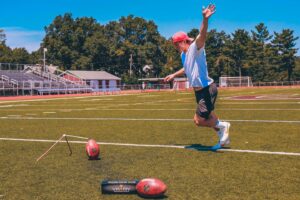 Made from aerospace-grade carbon fiber, VKTRY Insoles store and return energy to the athlete. They also provide a "spring-like" effect to improve shock absorption and reduce the load and stress on the athlete's body. In independent performance testing, athletes wearing VKs increased their broad jump by an average of +4.0", their vert by +1.6" and improved their 40 times by 0.12 seconds.
The large number of prospects continue unprecedented growth in football for the company. During the 2020 NFL season, a record number of over 200 NFL players, from 29 of 32 clubs, wore their carbon fiber insoles, a 300% increase from 2019 and included a list of some of the brightest young stars and respected veterans in the NFL, including Cleveland Browns RB Nick Chubb, LV Raiders RB Josh Jacobs, Washington RB Antonio Gibson, Buffalo Bills RB Devin Singletary, SF 49ers WR "Deebo" Samuel, Seattle Seahawks WR DK Metcalf, NY Jets DE Quinnen Williams, Buffalo Bills CB Josh Norman, Chicago Bears WR Anthony Miller, LA Chargers OT Brian Bulaga, Denver Broncos TE Noah Fant, New York Giants TE Evan Engram, Minnesota Vikings WR Justin Jefferson, Pittsburgh Steelers LB Devin Bush and many more.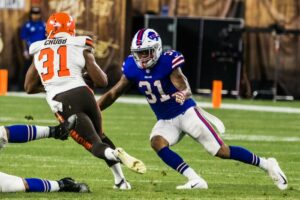 The two-time All-Pro selection and Browns' leading rusher the past two season, Chubb has been a proponent of the insoles since his rookie season.
"I seriously feel 10X faster with VKs," he said. "Most insoles are made from foam and plastic, but VKTRY is full length carbon fiber and that makes a difference – that gives me a competitive edge."