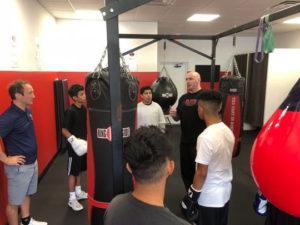 Boxing classes have long been a great way for men and women of all ages, shapes and sizes to maintain good fitness and conditioning. Big lifestyle brands like Life Time, which last week announced a new boxing-inspired workout at its locations nationwide, are constantly tweaking their offerings in the space, and many trainers utilize boxing as the basis for their clients' workouts.
And in the "there's an app for that" age, two former middleweight champions, Kelly "The Ghost" Pavlik" and Billy "Pride of Ohio" Lyell, have combined their love of the sport and fitness–as well as their collective resources–to create the Sweet Science + mobile app (iOS), billed as a way to "provides users with champion boxing coaches in their corner during training sessions giving athletes the ideal fighter physique while saving thousands of dollars in personal training or gym fees."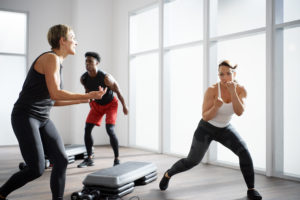 Both Pavlik and Lyell are Ohio natives, each achieving successful wins in the boxing world. Between 2000 and 2012, Pavlik amassed a 40-2 record with 34 knockouts as well as middleweight titles from Ring Magazine, the World Boxing Council and World Boxing Association. Lyell posted a 25-11 record with five knockouts as he competed for middleweight championships with both the International Boxing Federation and the World Boxing Council. Lyell launched Sweet Science Boxing & Fitness and has now partnered with colleague Pavlik in the creation of the Sweet Science +.
The duo took some time earlier this month to talk about their decorated careers in the ring and how everyone from elite athletes to those just looking to keep fit can benefit from their creation.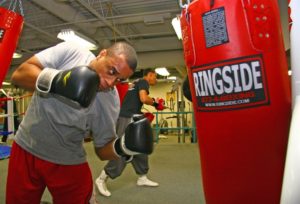 SportsMD: How did you both get into boxing and what has the sport meant to you?
Kelly Pavlik: I got into boxing because I was playing other sports as a young kid and always was interested in learning martial arts but the schools were too expensive. So the next best thing was boxing. My parents did not want me fighting but I fortunately kept pushing them to let me go! I stayed active in the other sports, but for the most part only truly committed to boxing. The sport means a lot to me because of the sacrifices and time put in for the sport I was so passionate about. My accomplishments were dreams I set for myself as a young child.
Billy Lyell: I played other sports like baseball and basketball in elementary school. I would always get upset when I had a good game and the team would lose. I didn't like that I couldn't control whether the team won or lost. My dad told me maybe I should look for an individual sport. I tried tennis and loved it, but the lessons were too expensive. I always watched boxing on TV and was interested in it. My parents agreed to let me train but didn't want me to compete. After training for nearly a year I convinced them to let me have a match. I won the match by first-round knockout and really fell in love with the sport. Once that happened boxing became my passion. I knew I wanted to be a professional and my energy went into working towards that goal. Boxing completely changed the direction of my life. I learned how to work hard, set goals and believe in myself. I am thankful for the sport of boxing and passionate about it.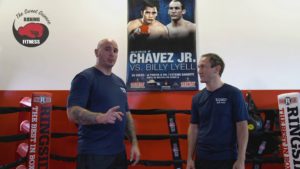 SMD: What are some of the special fitness challenges that elite boxers experience?
BL: One of the biggest fitness challenges is that elite boxers need to fight at the lowest weight possible while not losing any strength or endurance. They also need to look for any edge possible against other top boxers. The biggest challenge in my career was I was always looking for an edge over the competition.
KP: Some of the fitness challenges elite boxers face are the demand on the body! Some camps are pretty rough, especially when cutting calorie intake at the same time. The running and boxing cardio is great and the challenge also is to do better and have faster times then the previous runs and exercises
SMD: How can the expertise you both have as boxers at the highest level help the casual athlete who wants to use the sport to keep in shape?
KP: We know when to cut back on certain routines and when to really advance it, our set up and options in the app shows just that. We know the exercises that really work especially for boxing, and the cardio needed to be able to box on
any level.
BL: I believe boxers are the most well-conditioned athletes in the world. So, if anyone wants to get in shape a boxers training program will meet all their fitness needs. Boxing training gives people the ability to gain both strength and endurance in every workout.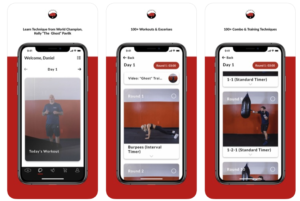 SMD: What led you to create Sweet Science + and what are some of the best features/benefits of using the app?
BL: My wife and I have a very successful gym in Naples, Florida called "The Sweet Science Boxing and Fitness." We received great feedback from everyone who has worked out at our gym. We feel our workouts are very unique because people are getting a world class workout and learning skills at the same time. This app brings this gym into people's homes. With the App users will have access to video instruction from Kelly. Each day users will get video instructions and work on specific skills. Users will have access to over 100 fitness exercises, 200 boxing combinations, meal plans, recipes, and even grocery lists.
KP: We created this app because there are very few apps especially with good or real boxers showcasing the art. We wanted to share our knowledge along with helping people lose the pounds and get the muscle tone they are looking for. We also wanted to add a diet plan to make it easier on them throughout this program, knowing the everyday demand is tough on people who work and have kids. They may not have time or access to work out whenever they want and come up with meal plans and recipes. So we bring it right to the customer.
SMD: How personalized is the app? How would, say a 50-year old, semi-out-of-shape man used to mostly sedentary activities, use it compared to, for example, a 25-year-old woman who has kept in condition after college and wants to maintain? Can both use it effectively?
KP: Our goal is to help everyone from heavy to light, younger to older. In the tutorial section of the app there are certain timers and substitute exercises for the ones who will not be able to perform the showed exercise for whatever reason. We also have different options for timers that can make it easier to get through the round while still getting a very good workout.
BL: One of the best features of the app is that it has alternative timers for the workouts. Someone who is in excellent shape might be able to do most of the exercises using the 3-minute workout bell, while someone just starting their fitness journey can utilize the interval bell. The great thing about boxing as a fitness tool is that people can throw boxing combinations at their own pace and velocity. Someone who is in great shape is going to throw boxing combinations with more frequency and power than someone who is working themselves into shape. People of all fitness levels can absolutely use "The Sweet Science +" effectively!
SMD: Do you see Sweet Science + replacing the gym for most users, or supplementing it?
KP: Either supplementing the Sweet Science + or strictly just doing the App itself shouldn't really affect anyone's schedule or workout program. If you do the App itself you will truly still get an amazing workout and targeted goals. If you still plan on implementing a weightlifting program, I do not see the App interfering with any weightlifting program or cardio exercises. I actually believe with The Sweet Science + App, it would definitely help the other exercise programs someone may have.
BL: If people follow the Sweet Science + workout program they could absolutely replace going to their gym. This 40-minute workout works the entire body every day.

SMD: What is the biggest mistake that you have found casual athletes make in fitness training
BL and KP: – Many casual athletes make the mistake of doing "fad" workouts. Any workout someone does needs to be part of their lifestyle. Many people focus on single muscle groups and do not do enough exercises that work multiple muscle groups. What's great about boxing is how low impact it is on the body. We have many members at our gym that are in their mid to late 70s while also having world class athletes including National Amateur Champions.
(responses edited gently for clarity in some cases)