by Joe Favorito, special to SportsMD.com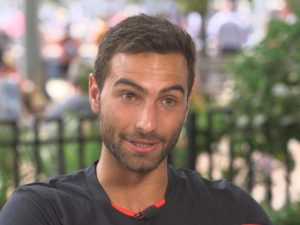 I got to know Noah Rubin as he rose up the tennis ranks, won Junior Wimbledon, spent time training at the John McEnroe Tennis Academy, had an outstanding year at Wake Forest University and then turned pro. And while I have followed Noah from a distance, I had forgotten the impact he was having, not on the court as much as a tennis player (he lost in qualifying last week at the US Open), but as a young pro struggling to build a career and then finding a way to storytell and positively impact the lives of others through a platform he built called Behind the Racquet.
Noah was profiled by Ted Koppel on CBS Sunday this past week, detailing what life is like on the Challenger Circuit, which is equivalent to baseball's minor leagues, albeit an even more solitary existence. And while Noah got some solid exposure for KSwiss and some of his other sponsors, the real story he told about his work off the court, towards the end of the piece, was an amazing tale of cause marketing looking to be expanded upon.
Behind the Racquet has become a passion play for the Long Island native, but it has also become a vehicle for him to build around, to have people view him as more three dimensional, and successful in showing empathy and telling stories well beyond the results. What has been born is a cathartic exercise that has helped many, especially as the pressure exerted upon elite athletes continues to escalate. And the issues of mental health take more of a forefront towards build a more healthy person off the court.
"You know, that was a dream of mine – you're gonna have this whole team backing you every step of the way," Rubin said in the piece. "But you only see that at the top. You know, all the players, my friends around me, we don't have anybody. We're supporting each other."
It's the sort of story Rubin might have shared on his Instagram, Behind the Racquet. Other players have opened up with stories of loneliness and eating disorders on tour. One player talked about his stutter; another, about her depression.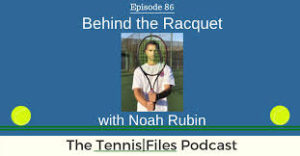 The modest success of Behind the Racquet has prompted speculation that Rubin might be looking for an "off-ramp" – getting away from The Grind:
"I'm not at all," he told Koppel. "I think I'm actually finding ways to deal with the tennis world a lot. And honestly, doing these Behind the Racquet stories, it's almost like a minor therapy for myself. Because I'm finding out that I'm not one of one, I'm one of many. And there's a lot of people dealing with the same things I'm dealing with. And I think we're helping each other out."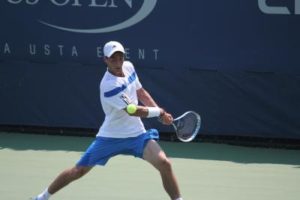 Now whether or not Noah Rubin finds a way to crash through "The Grind" and achieve elite success, even for a few events, is up for debate. However what's not debatable is that he has been able to find a way to seize an opportunity to use his platform of success to date to impact others in a positive way, and that effort, is worthy of a best practice huzzah, and makes him a winner both now, and for wherever his career goes.
For the singular world of tennis, Noah Rubin has found success in the social space for a team, by building awareness for others, a rare feat that is invaluable in a world that is too much about the individual.