As we round out National Athletic Training Month we caught up with Said Hamdan, currently the Medical Coordinator for National Basketball Association Referee Operations. Said has been an Adjunct Full Professor of Athletic Training at Long Island University in Brooklyn, N.Y., as well as the Former Director of LIU's Wellness Institute, and served as Associate Head Athletic Trainer for St. John's University. However, he is best known in athletic training circles as the longtime Assistant Athletic Trainer for New York Knickerbockers.
We asked said about some of the myths, misconceptions and best practices around the locker room, especially those of the NBA.
SportsMD: What are the most common misconceptions that people have about professional athletes and their training routines?
Said Hamdan: I think the concept of off-season is misunderstood. People sometimes think that athletes use their down time strictly on leisure activities and walk away from training to rest. These days remaining in top competitive condition requires almost year-round strength training, cardiovascular training, and even relaxation training. Most of the professional athletes that I know take a few weeks off following their seasons and get right back to work until the next preseason begins.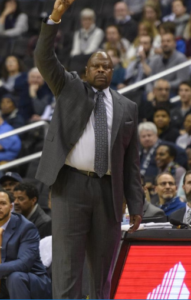 SMD: Who are the hardest working athletes you have been around?
SH: Anyone who was around him during his playing career would say Patrick Ewing. He worked tirelessly on the court, and then spent a good amount of time on cardiovascular exercise following every practice. He was meticulous about his preparation and enlisted the help of his teammates in order to get better. People forget that Patrick wasn't a lights out shooter in college, but when he got to the NBA he became one of the most prolific big men of his time. Not just because he was a big presence, but because he could shoot the ball. This required an extraordinary amount of hard work.
SMD: When dealing with common injury, what's the biggest mistake that professional athletes make during rehab?
SH: Rushing their way back. Elite athletes have a competitive edge which makes them the best at what they do. Sometimes athletes can get impatient with rehab simply because they want to return to competition. It's a mistake for an athlete to test out their recovery by running before they should or throwing before they should. This increases the risk of re-injury and slows the recovery process.
SMD: What area has changed the most in terms of rehab since you started as a trainer at LIU back in the day?
SH: The biggest enhancements in the area of athletic rehabilitation is, by far, education. The advancements of manual techniques, recovery tools, assessment tools and electric modalities have been a game changer in the athletic training room.
SMD: Looking forward, in terms of rehab for athletes, what is the area of growth you see, what's changing the most in terms of recovery, be it professional or everyday athletes?
SH: A lot of attention is being paid to recovery, importance of sleep, and mental health these days. Even leagues are addressing recovery in the way they scheduled games. The NBA has cut back on back to back games, and travel considerations are constantly being addressed. Most teams have employed relaxation techniques such as yoga, meditation, and sleep pods with in their facilities in order to enhance the recovery from physical exertion.