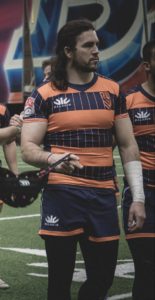 By some measures, rugby is among the fastest growing sports in the U.S. Events like the Collegiate Rugby Championships, exhibitions here featuring international squads like the New Zealand All Blacks, and the inclusion of the sport in the Summer Olympics are among the factors that have helped raise its profile.
Estimates place the sport's growth at more than 80% over a five-year period in the past decade, leading to the 2018 formation of Major League Rugby, with 11 U.S. teams and one in Canada this season, which began play in February.
One of the flagship teams is Rugby United New York, and one of the players the team has counted on again in the early going is center wing-fullback Jake Feury, a 25-year-old Denville, N.J., native who played both football and baseball at Delbarton H.S. and Middlebury (Vt.) College. Feury has had his share of injuries, including multiple vertebrae fractures, in both sports, playing his favored rugby in such faraway places as England, Ireland and Australia, as well as working for the NFL in various off-the-field roles.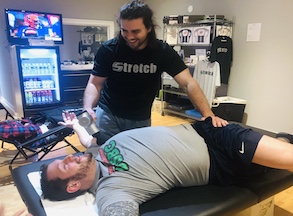 It's his business acumen, combined with his first-hand experience with fitness and health, that has led Feury on his other career path, as founder of Ridgewood, N.J.-based Stretch Recovery Lounge, which opened in October. He took some time to share some thoughts on rugby, how training differs from other sports and his experiences on the field and business world.
SportsMD: Rugby has been growing at a fast rate, with TV deals, a well-publicized collegiate championship, and Major League Rugby. How can the sport continue its climb in the U.S.?
Jake Feury: Rugby has certainly taking major steps forward by getting more television exposure, more eyes on the college game, and a consistent professional league. In order to continue to climb and move in the right direction I believe it needs to keep growing at the grassroots and youth level. Getting more institutionalized, structured programs in high schools and colleges would be a major step in that direction. Having rugby as an option as a varsity sport at more high schools is critical. Moreover, transitioning additional collegiate programs into well-supported varsity-like setups is also important. Lastly, getting more fans into Major League Rugby stadiums and larger, more consistent, corporate partnerships for both the MLR and the USA Eagles is a priority that is pertinent for future growth of rugby in the United States.
SMD: You played both rugby and football in high school and college. What are the similarities and differences in fitness and training for the two sports?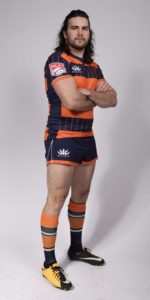 JF: While the preparations from a fitness and training standpoint for rugby and football share some similarities, there are many differences at play, as well. One major similarity is that athletes for both sports need to be built for contact. Injury prevention work in the gym is a necessity for both sports to make it through long, arduous seasons. Power, speed, and agility is needed for both sports, as well. I believe differences exist largely from an endurance perspective. While football has a break in the action after each tackle and allows unlimited substitutions, rugby is a continuous game that extends for many phases at a time and has substitution rules more similar to soccer. Another difference that exists is that in rugby is that all players need to be prepared for both offensive and defensive play, while in football athletes sometimes just play on one side of the ball. Moreover, all players on the field in rugby need to be able to handle the ball. 
SMD: What would be the most important elements of a training regimen for a rugby athlete?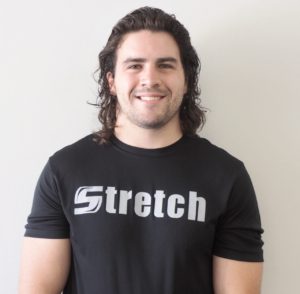 JF: I think one of the most looked-over aspect of rugby training is the mental game. Most of the in-game decisions on a rugby pitch are made by the players themselves without any input from the coaching staff in real time. This means that players need to assess the other team's alignment in front of them and find the best solution on the spot, while the game is in motion. Training your mind to make the correct decisions is critical to be successful on the pitch. Moreover, I think the recovery aspect is really important and ultimately played a role in me opening up Stretch. Being about to rejuvenate the body quickly, week in and week out, is necessary to be able to perform. Stretching, soft tissue work, mobility, and other recovery modalities are all ingredients that go into a proper rugby training regimen.

SMD: How did your injuries lead to your founding Stretch Recovery Lounge?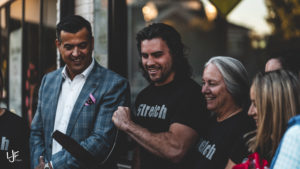 JF
: After no major injury issues for most of my career, during my junior year of college I went through a difficult back injury. I ultimately found out that I had congenital fractures in my lower back. After going through this, I realized how much I had been neglecting the injury prevention and recovery aspect of training. I tried a number of different treatments to try to get better. I started with traditional physical therapy, massage, chiropractic care, and loads of core strengthening. They all helped in my healing process, however, in my opinion, the main thing that got me back on the pitch healthy and pain free was improving my flexibility, particularly in my lower half, through stretching. I completed changed the way I trained and approached injury prevention and recovery from that point onward. Fortunately, I consistently had great access to different recovery tools and professionals in the space due to my rugby endeavors. That being said, even in New Jersey, where you can find just about anything at any time, there just is not a lot of access to the modalities we offer here at Stretch. I know that everybody, not just athletes, can benefit from what we do at Stretch. This is what motivated me to open up the facility.

SMD: What are some of your experiences on and off the field that prepared you for opening Stretch?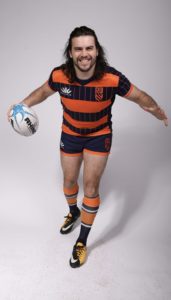 JF
: Off the field, I was fortunate to have had many opportunities that prepared me to open Stretch. The most important thing I have is an extremely supportive family and friend network that always have my back in everything I do. In addition, I attended Delbarton for high school, Middlebury for college and went through short-term programs at Tuck School of Business at Dartmouth and Trinity College in Dublin. Those institutions helped teach me how to learn, which is a vital part of opening up this facility. Moreover, I worked at the NFL's league office for a few years, mostly in New York, but also for a bit in London. The NFL also prepared me for this journey in terms all the things that nee to be done on the business side. My time on the field also helped prepare me to open Stretch. Athletics in general help a lot to create a mindset and mentality that is necessary to be successful in business. Moreover, my experiences trying to be a better athlete on the field helped me come up with the vision for a recovery space like Stretch. First off, I need to give a huge shoutout to Morris Rugby, where rugby all started for me. A few other experiences that also stand out was when I received the opportunity to represent the United States on the USA Under-19 7s rugby team at a tournament in England. Furthermore, I have had a couple opportunities to train at the Olympic Training Center in Chula Vista, California during tryouts for the Under-20 and Under-23 USA 15s rugby teams. Playing for Middlebury and Rugby United New York of Major League Rugby are also great honors that I am super grateful for, as well. All these roads and experiences led to Stretch!
SMD: What is the profile of your clients at Stretch? Do you work with both professional and casual athletes?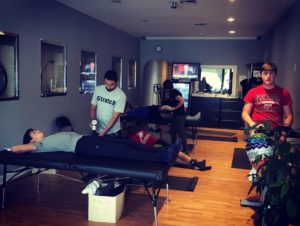 JF
: Our clientele is all over the map. We do have professional athletes coming to our facility. Our athletes come with backgrounds spanning from collision sports, such as football and the NFL, to non-contact sports such as golf and the LPGA Tour. While we do service professional athletes, the vast majority of our clientele are casual athletes or people who probably would not consider themselves athletes at all. The bulk of our clients just have issues such as tightness, back pain, or tension that developed over time. We get a lot of people in over the age of 35 who have these types of issues and are hoping to use our services at Stretch to be more comfortable day-to-day and prevent injuries moving forward. We also see a fair amount of high school athletes, as well.
SMD: What are some of the techniques you and your team prefer to use at Stretch?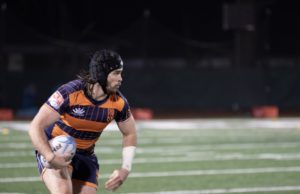 JF
: We offer a good variety of services at Stretch. We utilize Assisted Stretching, Soft Tissue Therapy, Instrument Assisted Soft Tissue Therapy, Cupping, Compression Therapy, Percussive Therapy, Inversion Therapy, Heat Therapy, Deep Tissue Ice Therapy, and even Recovery Classes. Typically, when a new client comes in for the first time we recommend starting off with an Intro Session, where we will have a consultation and evaluation before recommending which program moving forward would be best for them. Every session at Stretch is fully customized to each individual client's needs. No two sessions are ever the same.