Sometimes you find great stories, and opportunity, in the strangest places. If you visit Denali National Park in Alaska for example, you will look for water, and it won't be Poland Spring. Its packaging is unique, its sustainable message was very clear; its reusability is very handy. It wasn't Evian, or any microbrand associated with the big beverage companies. It is called Canned Water 4 Kids. In the midst of a National Park, where brands of all kinds would love to be on buses, somehow this growing and smart charity found its way into the hands of more than a few National park goers.
What was even more impressive is the fact that the reusable bottles with the cool logo make their way back to cruise ships, and people keep foregoing their traditional plastic bottles to use these for the remainder of the cruise.
With water becoming both a necessity and a scarcity, we wanted to find out more.
Greg Stromberg leads the charge at Canned Water 4 Kids. He recently retired as the Director Sales, National Accounts–Metal Deco for INX International Ink Co and has over 40 years of experience in sales and marketing within the can packaging & ink industry. Greg has a BS from Marquette University and an MBA Entrepreneurship from Jones International University where he graduated Magna Cum Laude. Greg is listed in Marquis Who's Who in the World.
We asked Greg to tell us the story of how the brand came about, how it's growing, where it can go, and how maybe we can all help (it's VERY AFFORDABLE by the way), and it is a charity. Here is their GoFund me page https://www.gofundme.com/safe-drinking-water-for-children?member=968798 as they work on their TENTH well in Zambia.
How did the idea for CannedWater4kids come about?
My idea for CannedWater4kids came from several places. The first of which, was from my father. He used to tell me stories about my grandfather who was a dentist during the great depression and how he would fix the teeth of the poor without charging them.
I thought this was admirable. Another influence was the late Paul Newman and how he used his Newman's Own brand to make a difference in helping those in need. The third spark came from The 2007 CanMaker Summit in Chicago, IL. The keynote speaker was a packaging consultant to the United Nations.  He asked the CEO's who were in attendance what they were doing to help people in developing countries. Specifically with regard to lack of food and their water which was unfit to drink.
Everyone was silent. Something inside told me I needed to do something. To make a difference. I had been reading about the global water crisis and how children were dying from complications due to drinking unsafe water. I thought if the children are our future, but they die before they get there – we have no future. CannedWater4kids was born.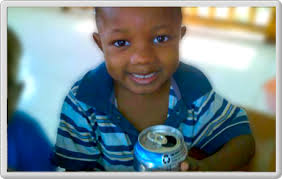 We came across the product in of all places, Denali National Park. How did it get there and to other National Parks?
Our 16oz aluminum bottle is available to the visitors of Denali National Park because of the VP of Sustainability for Aramark. Sustainability is very important to Aramark and they felt that plastic water bottles no longer fit corporate goals. She liked the fact that our cW4k water was packaged in an aluminum bottle (which, when recycled ends up as another aluminum bottle or can, back on store shelves in as little as 60 days). She also liked the fact that 95% of all money collected by cw4k from the sale of this water goes to fund and deliver clean water projects worldwide.
It took two years for her to get her parks to buy into the idea, but she was able to make it happen. Now she gets compliments company-wide for the find.
There is so much competition in water, what sets this apart, even in the cause marketing space?
Our purpose and passion is to make sure every child in the world has access to clean, safe, healthy drinking water. The fact that we use 95% of all money collected to develop, fund and deliver sustainable water projects is unique. Whether to stay hydrated, in response to corporate sustainability initiatives, or just to support our cause– every time someone buys and drinks our water, they are helping to make a difference.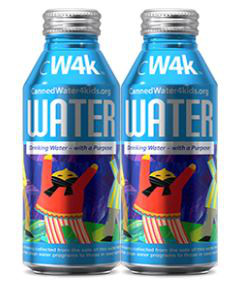 The design is so unique, how did it come about?
Our design came from our board member, Peter Gorman. He's a seasoned creative and brand pro who's assisted brands like Harley-Davidson, Miller Brewing and M&M's in telling their story. Because I worked in the can industry, I wanted the aluminum bottle and can to become a billboard to tell our story. The children dancing in the design represent every child and bright colors in the design communicate celebration of water and life. To tie everything together we coined the phrase, "Drinking water– with a purpose" because it (a) hydrates you, (b) 95% of the money collected from the sale of the water helps fund and deliver clean water projects, and (c) the aluminum bottle and can are environment-friendly, 100% recyclable virtually forever.
Water and staying hydrated is so essential in sports. Have you been able to work with any races etc to get the brand out there?
We have sponsored and provided water for charity golf outings and worked with schools at every level. We recently supplied water to Marquette University Golf Team's charity outing.
What's been the biggest challenge in building this?
The biggest challenge has been growing the charity organically with limited resources (money and people). It has been do-it-yourself in whatever way we can as we can.
What's been the biggest success?
Every time we bring clean, safe water to children it is a success to us.
We've helped fund and deliver sustainable well and water purification solutions to the highlands of Guatemala as well as Zambia, Kenya, Tanzania and Uganda, Africa.
We've also helped the American Red Cross and others in providing disaster relief to Japan, Haiti, New Jersey, Texas, Florida and Puerto Rico.
Recent activity also includes truckloads of disaster relief water sent to the people of Flint, Michigan as well as completion of a project in Africa that brought sustainable clean, safe drinking water for the first time to an entire village – over 400,000 people. To date, we've shipped over 3 million cans of water to help those in need. We consider that a success.
Is there a target market for sales?
Our channels right now include water sales on Amazon & Cw4k's website, the can industry and its supply chain, several vending companies for prisons, the Ritz Carlton, Carlson Group- Radisson Hotel, Aramark & Xanterra, National Parks, Universities, Tradeshows, business meetings, company picnics etc. We recently fine-tuned a fundraising model. Demographically, we find generation X, millennials and Z's love our product for its taste, packaging and the work we do.
Your distribution keeps growing; is there a target list you have for the end of year or two years from now?
Our target list includes the packaging industry, board rooms, hotels, schools, fundraising, vending, organizations, special events like movie premieres, small food stores
How does the revenue get distributed and how do you identify the places where water like this is needed?
We distribute revenue and resources to people and groups we know, trust and with whom we have worked with before. We are on the short list with the American Red Cross and Second Harvest.
Lastly, what is the biggest need you have to grow the cause and the product, and how does that get solved?
Our biggest need is to obtain money from private donors to support operating costs. This will allow for growth—and the ability to do even more good. Personnel needs include an executive assistant and marketing professional who can manage our day-to-day, sales and media relations, social networks, webpage and educational blogs.
Volunteers, while a valuable resource for any nonprofit, are often unavailable or lack the skills needed to get certain things done. We are also looking for distributors who can carry our water inventory and deliver our product efficiently and effectively.