Boxer's fracture
A boxer's fracture is a fracture, or break, of the fifth metacarpal bone of the hand, at the metacarpal neck. This is the bone associated with the small finger. When fractured, usually after punching an object like a boxer, it is often angulated and/or displaced requiring reduction and or surgical fixation.

Click the following link to learn about a metacarpal fracture. 
What is the anatomy of the hand as related to a boxer's fracture? 
The hand is made up of five metacarpal bones, numbered one to five from the thumb side to the small finger side of the hand, and fourteen phalanges or finger bones. The fifth metacarpal gives structure to the medial boarder of the hand and can be felt below the skin. The lumbrical and interosseous muscles, attached to the fifth metacarpal, cause the fracture to angulate apex dorsal, towards the back of the hand. 
How does a boxer's fracture occur?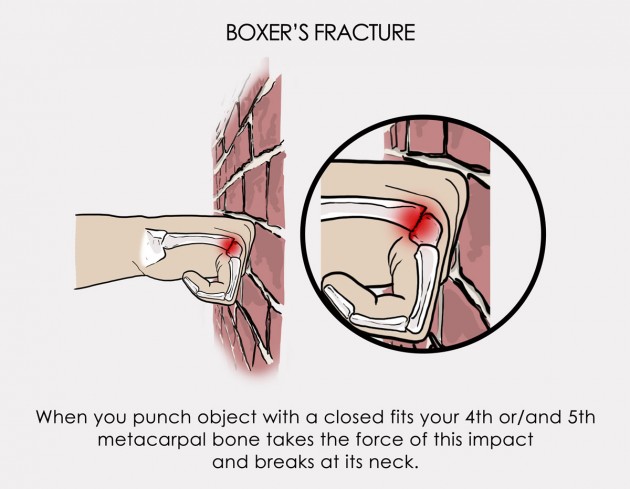 A boxer's fracture is usually the result of punching a hard object with an unprotected fist. The fifth metacarpal bone is loaded along its longitudinal axis through the metacarpal head at the metacarpalphalangeal joint, or knuckle, and fractures in the shaft of the bone. A combination of this axial load and the deforming forces of the lumbrical and interosseous muscles cause an apex dorsal angulation.
How does one examine a boxer's fracture? 
Physical examination of a boxer's fracture focuses on determining the orientation of the fracture and its effect on the rotation of the small finger. The examination needs to make sure that there is no overlap of the small finger on the ring finger or significant divergence from the ring finger when compared to the other side. A complete neurovascular examination of the hand and small finger is performed to make sure that the nerves and vessels to the finger are uninjured. Radiographs, or x-rays, of the hand in multiple planes are used to determine the fracture orientation, including angulation and displacement.
What are the potential complications of a boxer's fracture? 
Over angulation of a boxer's fracture can lead to a prominent metacarpal head felt in the palm of the hand, and cause decreased grip strength. Further, a rotationally malaligned metacarpal can cause a grasp abnormality. Splinting or casting of the hand in a position other than intrinsic plus position can lead to an extension contracture at the MCP joint and dysfunction of the hand.

Boxer's fracture splint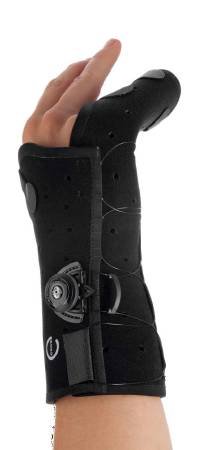 Conservative treatment of a boxer's fracture is warranted in most situations where there is not significant fracture angulation and there is no significant rotational deformity. Conservative care involves possible fracture reduction, often requiring local anesthetic, followed by boxer's fracture splint or casting of the hand and small finger in the intrinsic plus position (MCP flexion, PIP and DIP extension). Allowing for some digital motion may produce improved results. 
Acceptable angulation is less than thirty degrees, with decreasing grip strength associated with increased angulation. The period of immobilization should last three to four weeks, followed by protective splinting until six weeks, with fracture healing requiring six to ten weeks.

More Information: Read about sports injury treatment using the P.R.I.C.E. principle – Protection, Rest, Icing, Compression, Elevation.
What are the surgical options for treatment of a boxer's fracture? 
Surgical treatment is indicated for those fractures with unacceptable angulation or rotation, or a reduction that is not stable in a splint or cast. Surgical fixation methods range from transmetacarpal or interosseous pinning to plate and screw fixation. High level athletes may opt for internal fixation to allow for the potential of earlier return to play. Surgical fixation adds the usual surgical risks of infection, neurologic injury, and bleeding, as well as the risks of hardware failure and extensor mechanism injury.

What is the prognosis for an athlete suffering a boxer's fracture? 
The long term prognosis of a boxer's fracture is good. Although highly angulated fractures tend to heal, one may have decreased grip strength, which is rarely clinically significant. In the athlete however, one may be more aggressive with fixation. Internal fixation allows for return to play in a protective cast or splint within two weeks of surgery. One must remain protected however until full osseous union at 6-10 weeks. The athlete's age, level, sport, position and time of season must all be taken into account when deciding on a treatment plan.
Find a Doctor who specializes in Boxer's Fracture:
References
DeLee, Jesse, David Drez, and Mark D. Miller. Delee & Drez's Orthopaedic Sports Medicine : Principles and Practice. 3rd ed. Philadelphia: Saunders/Elsevier, 2010. Print.
Henry, M. H. "Fractures of the Proximal Phalanx and Metacarpals in the Hand: Preferred Methods of Stabilization." J Am Acad Orthop Surg 16 10 (2008): 586-95. Print.
Morgan, W. J., and L. S. Slowman. "Acute Hand and Wrist Injuries in Athletes: Evaluation and Management." J Am Acad Orthop Surg 9 6 (2001): 389-400. Print.
Disclaimer: SportsMD Media Inc. does NOT offer medical advice. The content on this website is for informational purposes only. Do not rely or act upon information from www.sportsmd.com without seeking professional medical advice. Consultations on SportsMD.com are not a substitute to physical consultation with a doctor or hospital services. The service should not to be used for medical emergencies. Do not delay seeing a doctor if you think you have a medical problem. In case of a medical emergency, call 911.